By Rick Sohn, PhD
Umqua Coquille LLC
Timber Industry Report April 27, 2016
While lumber production is slow and prices are low, there are favorable trends in mortgage rates and steady increase in home value nationally. Pockets of demand for homes and apartments in cities has created serious localized shortages and price increases. Recent trends of lumber, home construction, and housing markets, are compared to 2009 and 2005.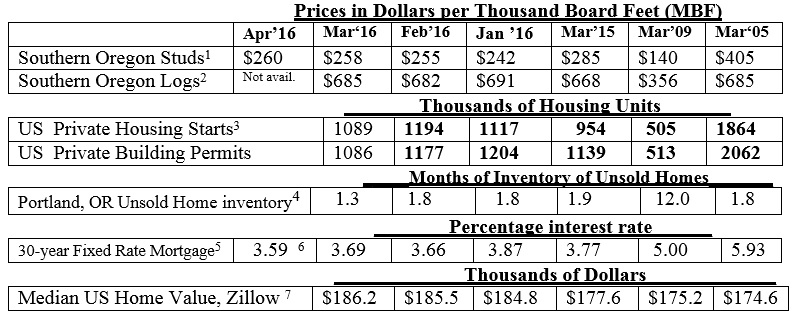 Interpretation and Looking Ahead.
Log prices and especially stud prices are ho-hum, compared to the last 2 years. Housing starts also took about a 9% dip this month. This kind of fluctuation is common and it is reasonable to assume construction (housing starts and building permits) will be higher next month.
Why is there reason for optimism? There are SOOO many signs that the housing market will improve. See below. First, the statistics. Interest rates are flirting with all-time lows again. Zillow median home values, while not meteoric nationally, continue to rise steadily. The unsold inventory of homes in Portland is back down to 1.3 months, after 1.2 in December (according to the Oregonian, these are the lowest inventories since 1999).
Second, specific cases of cities. To back up the optimism, there are many cases in larger cities where housing demand is soaring. One Portland realtor told me that the current inventory of condos in the Pearl district is only 2 weeks and prices are up 25% since January as the market tightens. An in-depth story, "The elusive (and expensive) house" in the Oregonian in April reports a much different home-buying experience than just a few years ago. In Portland's Sabin neighborhood, 71 homes were on the market in 2015 for an average of just 5 days. In Portland, in popular areas, a week on the market is not uncommon. Home prices in Portland rose 17% last year, to levels not seen before the recession, if ever in some areas. Homebuyers are accepting neighborhoods further from the center city with longer commutes, in order to stay within budget. Rental vacancy in Portland is also below 3% and rental rates are rising 14% per year. Take-home message: more new homes (and apartments) are needed, in order for price increases to level off — for demand to match supply.
San Francisco is similar. The San Francisco Chronicle reported in early April that the current "Bay Area building boom may not mean the end of (the) housing shortage," nor the sharp increases in home prices there — despite the fact that building permits are reported up 89% since last year. San Francisco is currently building around 20,000 units (apartments and residences) per year. To make up for the current deficit in housing alone, the Bay Area Homebuilders estimate they should be building 27,000 units per year. When the increased Bay Area employment is factored in, the average number of home units being built per year should be about 40.000, over 3 times the 12,766 single and multi-family permits issued in 2015 – which itself is 28% higher than 2014. These increases are far higher than the average 20% increase nationwide, comparing the last 2 months to March 2015.
The New York Times reports the same pattern in a story this week ("Out of an Apartment and into a House") about the "adventure" of homebuying for apartment renters who need more space for a growing family. Home prices are bid above the asking price by multiple offers in a very short time – one listed at $499,000 went for $525,000. With a budget of $600,000 for a 3-bedroom home, serious fixer-uppers are all that is available. Like the other cities, "if you snooze, you lose."
The sobering counter-trend is that much of rural America is struggling with employment and construction, making recovery elusive. Yet, the health of the cities improves national averages.
These 3 examples of the housing shortage are no surprise to many. For the last 5 years or so, economists (such as those at seminars sponsored by Northwest Farm Credit Services) have been telling the forestry sector of their clients that homebuilding would increase, and take housing starts back near the 1.5 million annual level. But after hearing these predictions, when the audience is asked what they think will actually happen, the mood is very pessimistic and skeptical. And, in fact, housing has not picked up as fast as predicted. Hopefully these urban shortages will begin to fuel a more serious construction boom.
But, why has homebuilding not stayed in closer relationship to demand? Among the reasons, one is very common-sense. A lot of homebuilding is done by smaller contractors. These builders had to cut back their businesses severely during the Great Recession, just to survive. Perhaps they are remaining conservative, unwilling to engage in what they view as speculative building, putting their businesses at risk. Serious housing shortages, as described here, may be needed to build confidence, which in turn could lead construction to increase on a scale needed to counteract the increased and pent-up demand and increasing prices. When homebuilding finally returns to "normal," the homebuying experience may also return to normal, and the rapid and unsustainable increases in home prices of some areas will level off. Such a healthy market could be a boon for wood lumber producers and their communities. But first, builders have to build, and the demand for products like studs has to increase, and the price with it, in order for producers to justify adding more shifts.
Data reports used with permission of: 1Random Lengths. Recent week Kiln Dried 2×4-8′ PET #2/#2&Btr lumber. 2RISI, Log Lines. Douglas-fir #2 Sawmill Log Average, Southern Oregon region. 3 Annualized monthly. US Dept of Commerce. 4Portland, Oregon Regional Multiple Listing Service, courtesy of Janet Johnston, Prudential Real Estate Professionals, Roseburg, OR. 5Freddie Mac. National monthly average. 6 Federal Reserve Bank of St Louis Economic Research, National Average, most recent week. 7Zillow.com, National Median home value. (http://www.zillow.com/or/). © Copyright Rick Sohn, Umpqua Coquille LLC. Issue #9-4. For more information, questions, or permission to reprint, please e-mail me at [email protected].