By Rick Sohn, PhD
Umqua Coquille LLC
Product prices are up, Portland housing market is the hottest in the U.S. and mortgage interest rates are trending down. Median home prices continue to rise, albeit slower. Recent trends of lumber, logs, home construction, and housing markets, are compared to 2009 and 2005.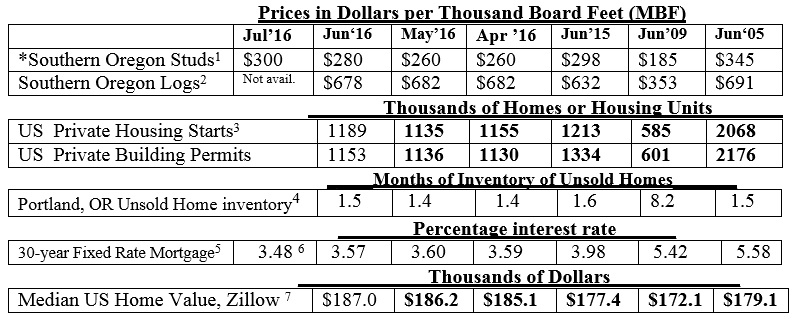 * A lumber board foot is 12 inches by 12 inches by 1 inch. A log board foot is larger, to account for losses during manufacturing due to tapered logs making straight boards, sawdust, etc. The leftovers become chips, which are used for paper and fuel.
Interpretation and Looking Ahead.
Good news: the stud price has risen to a more respectable level, while the log price has remained steady. Housing starts and Building permits are up slightly, but they are down since June 2015. Mortgage interest rates remain very attractive.
Unsold inventory of homes remains at an attractive level for home sellers, of only 1.5%. In Portland, the number of homes listed is up from last month, and a year ago, 5 and 8 percent, respectively, according to Multiple Listing Service. Nationally, the housing market is not as good as Portland, which led the nation with a home price increase 1.4% from April to May, compared to 1.1% in 20 metro areas around the country (Case-Shiller home price index, The Oregonian).
Zillow, which reports urban and rural areas together, and reports the national increase in home prices of only 0.6% (6/10 of 1%) or only about half the Case-Schiller level between April and May. Assuming these figures are roughly comparable, this is symptomatic of the general sluggishness of rural economies, compared to urban economies around the nation.
The Oregonian also reports that Portland has led the nation in having the hottest metro housing market for the last 7 months. In Roseburg, Janet Johnston reports that the "Market is still strong and agents busy. Activity is back up to where it was in 2005-6!"
Despite Portland's housing market hotness, and as also reported last month, first-time homebuyers are not buying as they normally used to. Some have too much debt from college, and lack the money for a down payment, even though parents are more frequently helping with the down payment. Apparently others want to simply hold out for a larger home and skip the starter home, buying homes later in life. They are holding out for the more expensive homes in the suburbs. These factors contribute to the prolonged dip in homebuying. This shows up clearly in the rate of housing starts and building permits, compared to 2005. Not that these levels are expected to return, but at some point in the future, new home buying is expected to increase from current levels, maybe to 1.5 million starts.
Figures in bold are adjusted monthly. Data used with permission. 1Random Lengths. Recent week Kiln Dried 2×4-8′ PET #2/#2&Btr lumber. 2RISI, Log Lines. Douglas-fir #2 Sawmill Log Average, Southern Oregon region. 3 Annualized monthly. US Dept of Commerce. 4Portland, Oregon Regional Multiple Listing Service, courtesy of Janet Johnston, Prudential Real Estate Professionals, Roseburg, OR. 5Freddie Mac. National monthly average. 6 Federal Reserve Bank of St Louis Economic Research, National Average, most recent week. 7Zillow.com, National Median home value. (http://www.zillow.com/or/). *Unemployment statistics from the Manhattan Institute, http://economics21.org/html/long-term-unemployed-still-recovering-recession-1739.html. © Copyright Rick Sohn, Umpqua Coquille LLC. Issue #9-7. For more information, questions, or permission to reprint, please e-mail me at [email protected].