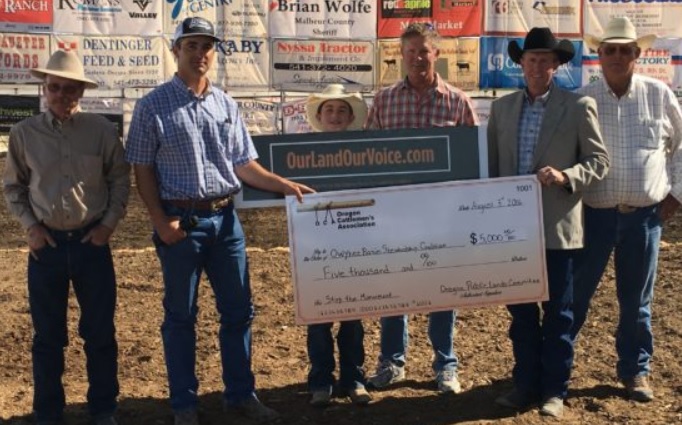 By Oregon Cattlemen's Association
The Oregon Cattlemen's Association has invested $5,000.00 in a campaign led by Malheur County families to oppose a national monument designation that would restrict access to public lands, hurting Oregon's economy by curtailing ranching in the state's No. 1 cattle producing region.
It seemed only fitting that during a class on locally born and bred cattle at the Malheur County Fair, the Oregon Cattlemen's Association presented to the Owyhee Basin Stewardship Coalition $5,000.00 from the Oregon Cattlemen's Association's Oregon Public Lands Council in front of over a hundred spectators.
In an ongoing battle to create awareness to the possibility of the United States President locking up 2.5 million acres in an Owyhee Canyon National Monument Designation, the Oregon Public Lands Council made a physical and financial gesture in showing their support for the work of the Owyhee Basin Stewardship Coalition. An executive power such as this is set in the Antiquities Act of 1906, whose original creation was to provide general protection for any kind of cultural or natural resource.
"History has proven that soon after such designation, grazing on public lands are diminished or eliminated int its entirety. One has only to look at the Grand Staircase-Escalante National Monument in Southern Utah, signed into law 20 years ago by President Clinton in his last days of office," said Matt McElligott President of the Oregon Public Lands Council.
Past care of this land in southeastern Oregon has fallen to the local ranchers and farmers; as proven by their efforts to halt 20,000 plus acres of wildfires in the Malheur County area in June of this year. As the most remote place in the Lower 48, it is the home of generations of cattle ranchers. One such individual is Elias Eiguren, a fifth-generation cattle rancher of the Malheur County area and an active member of the Owyhee Basin Stewardship Coalition, who was in attendance for the presentation of the check.
"We appreciate that the Oregon Public Lands Council not only supports us [at the Owyhee Basin Stewardships Coalition] but also recognizes that this is a large issue that is in need of the donation of such a large amount of money," Eiguren stated on the phone Thursday afternoon.
"Education is key," Eiguren concluded. "As more people learn, more people become aware of the impact that a National Monument Designation will have on the rural communities of Oregon and the country as a whole."
To become involved, sign the petition, and donate towards the cause, check out their website www.ourlandourvoice.com today. Eiguren shared that the cause is gaining movement quickly with over 1,000 new signatures in the week leading up to the check presentation.