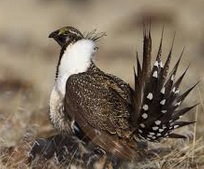 By National Cattlemen's Beef Association
One year after the announcement by the Department of Interior that a listing under the Endangered Species Act was not warranted for the greater sage grouse and the implementation of restrictive resource management plans for the species, the Public Lands Council and National Cattlemen's Beef Association submitted a report to the agencies citing concerns with the methodology used.
Ethan Lane, PLC executive director and NCBA executive director of federal lands, notes that recent studies have shown little or no correlation between sage grouse nest success and the requirements set out by the agencies.
"The threats to sage grouse habitat remain wildfire and land development, both of which are mitigated by proper livestock grazing," said Lane. "One of the most restrictive and burdensome requirements set out by the agencies through the sage grouse Resource Management Plans is the arbitrary stubble height requirement. To say that grass height alone can predict whether or not a sage grouse nest will be successful is not accurate and based on flawed methodology."
The report points to recent studies showing that the assessments of stubble height required by the Bureau of Land Management, U.S. Forest Service and U.S. Fish and Wildlife Service are incorrect. These studies show that the timing of grass height measurements in relation to nest predation are fundamentally flawed and not indicative of nesting success.
"Grass height measurements for successful nests are usually conducted in late spring when the eggs have successfully hatched and the grass is taller," said Lane. "Contrarily, predation of nests often happens closer to the time the eggs are laid in early spring when the grasses are still growing. Grass height alone has little impact on the success or failure of sage grouse nesting, yet these requirements put intense pressure on grazing rotation and the long term health of the range."
Repeated studies clearly show that grasses respond best to intensively-managed grazing that focuses heavily on timing and recovery. A managed grazing rotation means that a pasture will be grazed early in the season in some years and later in others to ensure optimal recovery and rangeland health.
"The Resource Management Plans make stubble height the driving factor in grazing decisions and impede improving rangeland conditions," said Lane. "This is counter-productive to sage grouse habitat, as we know healthy rangelands are the largest factor in the success of the species. Moreover, by prioritizing individual data points like grass height over long-term range health, these plans also detract from the conservation of public lands and result in deteriorated rangelands."
The Public Lands Council is calling on BLM, USFS and USFWS to provide clear instruction at the field level that livestock grazing is not a significant threat, livestock grazing should not be held to a standard that is not ecologically possible in some sites, and that reducing numbers and utilization of public lands will only increase the fuel load.