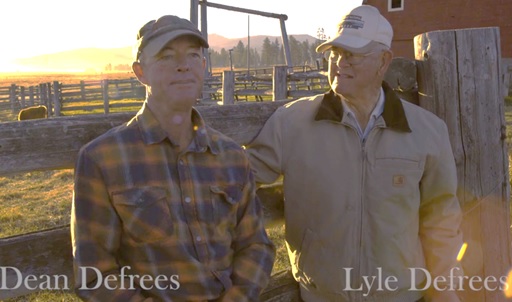 By Oregonians for Food and Shelter
The American Tree Farm System (ATFS) announced that the 2016 National Outstanding Tree Farmer of the Year award, will go to the Defrees family of northeast Oregon. Father and son duo, Lyle and Dean Defrees, along with their family, Sharon Defrees, Dallas Hall, Riley Hall, Nathan Defrees, Jess Defrees, Tyler Defrees and Max Patashnik, have been protecting their forested land, the wildlife habitat it provides, and the water supply that runs through it, for more than 100 years.
2016 National Outstanding Tree Farmer of the Year!
"We're truly honored to be chosen as the National Outstanding Tree Farmers of the Year," said Lyle Defrees. "Our family has had a passion for our land and conservation for generations. Most everything we do is to protect our land from fire so it can continue to provide for us, the wildlife in our region, and our fellow Oregonians."
Please join us in congratulating the Defrees family!
While we celebrate the recognition of the families who manage Oregon forests, these same families will soon be facing new stream rules from the Oregon Department of Forestry that could greatly effect how they manage their land.
ODF is considering new riparian rules to require additional buffering on small and medium sized Salmon, Steelhead, and/or Bull Trout (SSBT) streams located in western Oregon. The new requirements include:
Increased no harvest buffers,
Increased number of trees left after harvest, and
Increased complexity to require that residual trees near streams are distributed across the length and width of the buffered area.
The good news is that farmers and foresters still have the opportunity to influence some of the details of the draft rules.
It is critical that land managers that are impacted by the new rules attend the public hearings listed below and voice your opinion about the new rules and how they will impact you.
November 3, 2016 4:00pm – 7:00pm
Keizer Civic Community Center, Keizer
November 9, 2016 4:00pm – 7:00pm
Douglas County Fairgrounds, Roseburg
November 10, 2016 4:00pm – 7:00pm
Coos History Center, Coos Bay
November, 15 2016 4:00pm – 7:00pm
Florence Event Center, Florence
November, 16 2016 4:00pm – 7:00pm
Clatsop Community College, Astoria
December 6, 2016 4:00pm – 7:00pm
Willamalane Center, Springfield
December 7, 2016 4:30pm 7:30pm
Forest Grove Community Auditorium
December 8, 2016 12:00pm – 3:00pm
Civic Center Room, Dallas City Hall, Dallas
December 8, 2016 4:00pm – 7:00pm
Department of Forestry, Tillamook Room, Salem
December 15, 2016 4:00pm – 7:00pm
Ecotrust, Portland
More information on riparian rulemaking can be found on the Oregon Department of Forestry's public website.
If you can't attend the meeting you can still submit comments online to the Board of Forestry through the OFS VoterVoice system.