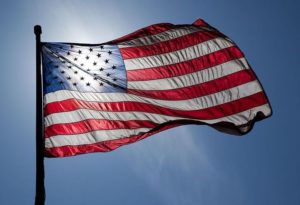 Free to Farm from Sea to Shining Sea
By Zippy Duvall
You'll be hard pressed to find folks with more patriotic spirit than America's farmers and ranchers. We love this country and take great pride in working around the clock to grow the finest products in the world. From sea to shining sea, farmers know firsthand the beauty of our nation's prairies, forests, valleys and plains, because that's where our "offices" are. For many of us, our families have been farming and ranching in our communities for decades—and even centuries—long before housing developments began to spring up. A good day in American agriculture brings millions of jobs and nutritious meals to our nation.
Most Americans enjoying their Fourth of July cookout probably won't give much thought to where the meal came from. They don't have to worry about whether the meat is safe to eat or whether there's enough corn-on-the-cob. Thanks to the hard work of U.S. agriculture, our safe and affordable food supply is the envy of the world. But that wouldn't be possible without strong and supportive policies and programs and common-sense regulations that give farmers and ranchers the flexibility they need to manage their businesses—and stay in business. As farmers, we know what's at stake, and we have an added responsibility to protect the freedoms we need to preserve both our livelihood and our nation's food security.
Thanks to the hard work of U.S. agriculture, our safe and affordable food supply is the envy of the world.
We've faced some tough battles on the road to regulatory reform. Agriculture has come together with one voice to call for common-sense reform, and I'm proud of the progress we've made. We must remember though that we haven't reached our destination just yet. You can be sure that our team in Washington will continue to fight until the reforms we need are law, but lawmakers still need to hear from each of you on how these regulations affect your livelihood. Farmers and ranchers often get labeled as "anti-regulation" when we call out what's not working in our system. In fact, we're for common-sense regulation. Keeping our water and air clean makes good sense and is a top priority for agriculture. In fact, farmers have cut environmental impacts in half across major crops, while production has increased, thanks to strides in technology and innovation backed by our innate ethic of stewardship.
Finally, if farmers and ranchers are going to have the freedom to do what we do best, we need a robust 2018 farm bill. There's lots of talk in Washington these days of trimming the fat, but farm programs are about as lean as they come. Farmers and ranchers care about fiscal responsibility and we know how to stretch a dollar. Farm bill spending is an investment in the security of our nation's food supply and the 21 million jobs agriculture supports. Tools like crop insurance can make the difference for a farmer struggling to hold on through a tough season or to secure a loan to get the next crop in. Anyone who still thinks the farm bill is about handouts has never met a farmer. America's farmers and ranchers are some of the most innovative, hard-working people our country produces.
I can't help but be overcome with thankfulness to live in a nation that celebrates liberty and opportunity for all. The freedoms we enjoy in our country were not easily won, and it's the solemn duty of every citizen to protect those privileges for the next generation.