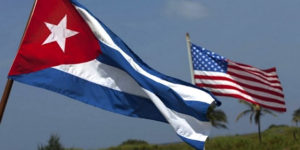 Farmers Urge Caution on Cuba Policy
Via Farm Bureau 
Importing $2 billion worth of food each year, Cuba represents the kind of growth opportunity U.S. farmers and ranchers need during this challenging economic period, American Farm Bureau Federation President Zippy Duvall said recently as he encouraged the administration to tread lightly in making new rules for doing business with Cuba that would limit U.S. agricultural export opportunities.
President Trump's recently announced policy changes relate to travel, tourism and benefits to the Cuban military. Under new regulations to be released from the Department of the Treasury, Americans traveling to Cuba will be audited to ensure that they are complying with regulations. In addition, Americans visiting Cuba and businesses will be prohibited from engaging in financial transactions with any entity that has ties to the Cuban military.
While none of the policy changes are directly related to U.S. farm and ranch goods, they likely won't help grow U.S. agriculture's mere $200 million sliver of Cuba's food import market.
We should be doing more, not less, to encourage U.S. agricultural exports to Cuba. Our farmers and ranchers and the Cuban people would benefit from increased sales of high-quality, American-grown food and feed. The American Farm Bureau will continue to work with the administration and Congress to maintain and improve the conditions for agricultural trade with Cuba.
— AFBF President Zippy Duvall in a statement
He continued, "Self-imposed trade restrictions have kept America's farmers and ranchers from competing on a level playing field and have closed off one of our nearest ag export markets. Cuba has not purchased any rice or wheat from the U.S. in many years, instead buying from other countries around the world. As we cope with the biggest drop in farm prices in decades, we need to be opening up markets for American farm goods, not sending signals that might lead to less access."