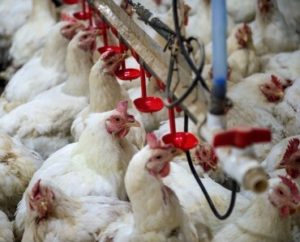 Highs for Broiler Piece Prices Likely in Rear View
Via Farm Bureau
Wholesale broiler prices have remained above year ago level almost all year despite the expectation for an annual 2 percent increase in broiler production – projected in the May World Agricultural Supply and Demand Estimates (WASDE) – and rather inexpensive competing meats. The National Composite price is the weighted average of whole birds sold and is released every week by the U.S Department of Agriculture (USDA) Agricultural Marketing Service. This year the national composite hit the highest level since June of 2014, reaching $115 per hundredweight. However, some of the more exciting price rallies we have seen this year are in broiler piece prices, with several of the chicken pieces showing surprising strength.
The northeast wholesale breast meat prices rallied $69 per hundredweight between the first week of January and mid-June. That is a 70 percent increase, but is in line with the five year average for wholesale breast prices in the summer months. Since then wholesale breast prices have fallen to around $150 per hundredweight, from their $166 peak. Wholesale wing prices have rallied also in the second and third quarter this year. Weekly prices indicate they are more than 30 percent higher in the months of June and July compared to 2016. These wholesale wings have been over $200 per hundredweight for 10 straight weeks, see Figure 1. The last time wings were that high was in 2015 for three weeks in February. Other wholesale pieces have maintained steady gains as well without the steep rallies seen in wings and breasts. Legs have also seen strong gains as well as thighs and to a lesser extent livers and gizzards. In fact, in the second quarter only tenderloins, backs and necks have had weeks that slipped below year ago pricing. Figure 2 shows the percent increase over 2016 prices for select broiler pieces on a weekly basis.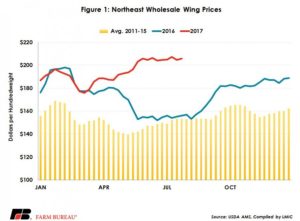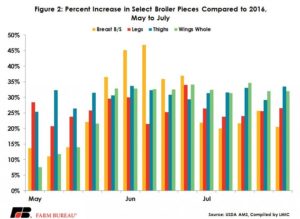 As mentioned above, production has been on the rise, with the first two quarters of 2017 posting gains of 1.5 percent to 2 percent over 2016. This is counterintuitive to how prices have behaved. However, exports and inventories provide the fundamentals when we look at where broiler piece prices have gone. The monthly Cold Storage Report released by USDA National Agricultural Statistics Service shows inventories of thighs, drumsticks, paws, and wings have all slipped below year ago levels. Wings and thighs, in particular, have dropped 33 and 44 percent from a year ago in the month of June and are both now sitting below the 5 year average. Figure 3 shows the decline in wing inventory levels.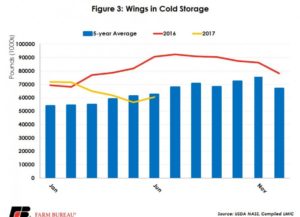 Exports have been fairly robust all year. Year to date data through May indicates broiler exports are up 4 percent from 2016. June trade data will be available August 4th and look to confirm that poultry exports have continued to be aggressive. So far, the export story supports what wholesale prices have been telling us. Year to date wing exports are 20 percent above a year ago on a volume basis, while leg quarters are up 8 percent. Harmonized tariff lines do not show us all the individual pieces we have wholesale prices for, but on a volume basis, total broiler exports have been promising. What's more is that domestic consumption is estimated to be flat to slightly up this year, adding further support to the export story.
Heading into the fall quarter, the WASDE is predicting much higher production, up over 4 percent but is expecting prices to remain above year ago levels. But, the high point for wholesale prices is likely to have already past for this year, and with the increase in production expect those prices to dampen towards the end of the year. Tighter inventories could lead to some surprises, but overall do not expect broiler prices to have lasting rallies for the rest of 2017.