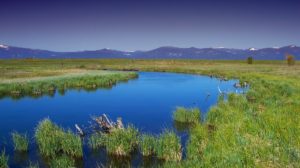 By Oregonians for Food and Shelter
Over the past couple of years, we have shared information about the EPA's move to expand the definition of "Waters of the United States" (WOTUS), under the federal Clean Water Act (CWA).
Back in August of 2015, under the Obama administration, EPA finalized rules that expanded waters regulated by the CWA to include virtually all waters. This brought federal jursidiction over ditches, puddles and other waters that are not considered "navigable." The American Farm Bureau Federation has a great background piece on the issue HERE.
At the time, farmers and foresters from across the nation submitted comments to the EPA outlining why those waters should not be covered under the CWA, and what the impacts would be if those waters were put under CWA jurisdiction. Unfortunately, the EPA moved forward with the new rule anyway. Thankfully, in late 2015, a Federal Court put a stay on the rule; halting implementation of it for an undetermined period of time. That granted temporary relief for those who opposed the rule, but still left plenty of uncertainty. Now, under the Trump administration, there is an opportunity to make that relief permanent.
President Trump signed an Executive Order in February ordering a review and revision of the WOTUS rule. The EPA is taking the first step in the Executive Order by proposing to restore the WOTUS definition to what was covered prior to the 2015 changes. But, environmental activists are opposing these changes so the EPA needs to hear from you!
EPA is accepting comments until August 28, and the American Farm Bureau has made it very easy to get your comments submitted to the Federal Register. Please visit the webpage HERE and write a quick note supporting the proposal.