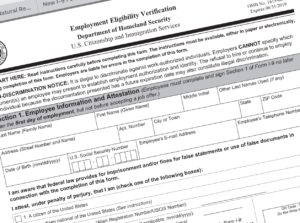 New I-9 Form Takes Effect September 18, 2017
By J. Kent Pearson, Jr.
U.S. Citizens and Immigration Services (USCIS) published a revised Form I-9, the form used to verify employee identity and authorization to work in the United States. Employers may download the new form here: Form I-9, Employment Eligibility Verification.
Use of the new form is mandatory for employers beginning September 18, 2017. Between now and September 17, 2017, employers may use the existing form, which bears a revision date on the bottom of 11/14/16. Alternatively, employers may immediately begin using the new form, which has a revision date of 07/17/17. Among the changes on the new form are revisions to the List C documents and other language changes to the form. USCIS also revised the instructions to require that employees complete Section 1 of the form "no later than the first day of employment."
While the revisions to the form are fairly subtle, it is important for employers to use and accurately complete the correct form to remain in compliance and avoid potential penalties. Retention and storage requirements for Forms I-9 remain unchanged. Employers must retain Form I-9s for at least three years from the employee's date of hire or one year after employment terminates, whichever is later.