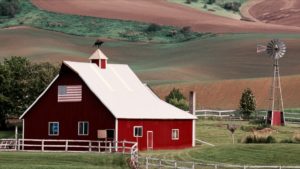 Incubators Help Beginning Farmers Break into Farming Without Breaking the Bank
By Dr. Lisa Benson
Via Farm Bureau
Starting a new farm often requires large capital investments to purchase or rent farmland, access farm equipment and set up storage facilities. Beginning farmers can expect to invest more than $800,000 in their farms in the first few years. On average, it takes about five to seven years for farms to become profitable. In the meantime, beginning farmers are often saddled with massive debt. They are trying to meet large loan payments and working on the farm as well as an off-farm job to make ends meet. Farm incubators provide a way for beginning farmers to learn how to start a successful farm business and gain access to farmland and farm equipment without massive initial capital investments.
In the U.S., approximately 119 farm incubators teach beginning farmers how to develop successful farms and provide plots of land to start farming. Often this farmland is a small parcel, ranging anywhere from a tenth of an acre to two acres, within a larger farm. Incubators provide the participants with the assorted resources needed to start a farm business, including production training, business plan development, and access to farm equipment, water and power. Incubators are often long-term programs that continue for three to five years.
The main advantage for farmers is that incubators provide access to free or inexpensive farmland, equipment, storage facilities and utilities.
Many incubators charge participants a nominal fee to rent the farmland and access utilities. Rental fees range from $100 to $2,000 per acre each year, usually well below the market rate. Some rental fees work on a sliding scale with fees increasing over time as participants gain more experience and increase their level of production and sales. The Headwaters Farm Incubator Program in Oregon charges participants in their first year a rental payment of 25 percent of the market rate for the land. The rental payment steadily increases each year until it reaches 100 percent of the market rate.
The main advantage for farmers is that incubators provide access to free or inexpensive farmland, equipment, storage facilities and utilities. Incubators also provide a protected environment for participants to nurture new farms without some of the market influences that can lead to quick failures. Participants do not have to meet minimum production or sales levels to remain viable when their land and equipment costs are subsidized by the program and below the market rate.
Participation in incubators can also help farmers secure markets and reach reliable and sustained production over time. From the sponsoring organization's perspective, farm incubators can provide meaningful, long-term benefits for participants, especially for populations like immigrants who may be in critical need of employment.
Over time the age of the farmer has continued to increase, with the average now at 58. It's time we reverse that trend and help young and beginning farmers enter agriculture. Helping them succeed in farming and ranching will ensure we have a strong industry for generations to come. Farm incubators are one tool that can help young and beginning farmers enter the business of agriculture without the heavy financial burden of buying farmland and equipment. To find a farm incubator program in your state, check out the National Incubator Map developed by the National Incubator Farm Training Initiative.