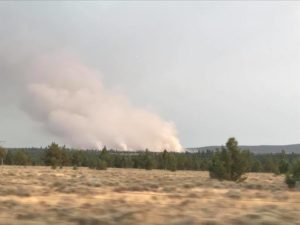 Via Healthy Forest Healthy Communities
Congressman Greg Walden represents Oregon's second congressional district. He penned the following open letter to his district:
Enough is enough. When Cycle Oregon and performances at the Shakespeare Festival in Ashland get canceled because of fires and the toxic smoke, it's long past time for Congress to address how federal forests are managed and how fires are fought (or not), including policies that affect firefighting in wilderness areas.
When people in Central Oregon, the Gorge (or just about anywhere on the east side this summer) are told to stay inside, it's time for a change in federal policy so that decisions to let fires burn include a review of how doing so will add carbon and toxic pollutants into the atmosphere, threaten habitat and water quality and destroy private timberlands and property.
It's also time for the U.S. Senate to stop blocking our bipartisan legislation that has passed overwhelmingly in the House year-after-year which would help prevent catastrophic forest fires by allowing proper management. Further, the bill would provide resources to clean up after forest fires and restore the forests with new trees for another generation.
The House Resources Committee has once again approved legislation– the Resilient Federal Forests Act–that solves the fire borrowing problem, but more importantly, gives foresters and firefighters new tools to help protect our forests, watersheds and airsheds from the kinds of disasters we endured this summer. I know we're always going to have fires, but we must find better ways to control and extinguish them.
Soon the House will take up this measure and send it to the Senate. I'm convinced President Trump will sign it into law if only we can get it to his desk.
photo : source