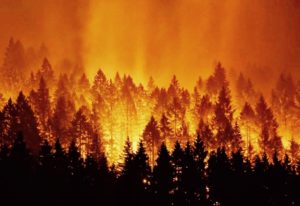 Guest opinion submitted by Knute Buehler
Oregon State Representative and 2018 Governor candidate
This summer's wildfire season has traumatized Oregonians across our state with more than 500,000 acres burned, so far, this summer. Families have lost homes and livelihoods. The special places where we hike, bike and camp are scarred or still burning. We've endured weeks of thick wildfire smoke creating public health emergencies and causing school activities and other events to be canceled. The courageous men and women fighting Oregon's fires deserve our deep appreciation because without them, this crisis would have been much worse.
The southeastern United States has hurricanes and the Midwest has tornadoes. We have wildfires, and, each year our wildfire seasons have grown longer and the fires more severe. The impacts of forest overcrowding, drought and climate change are altering our forests and grasslands, making them more vulnerable to fires, insects and disease.
Simply stated, our forests and public lands are in trouble and Oregon needs stronger leadership and new policies to save them. Nearly half of the forests in Oregon are owned by the federal government. Thousands of acres of these forests are at immediate risk of catastrophic wildfire, insects and disease. A century of wildfire suppression, worsened by the more recent policies discouraging timber harvests and thinning, have resulted in unnaturally overcrowded forests and high tree mortality. In fact, the U.S. Forest Service's most recent Forest Inventory Analysis found that Oregon has 571,000,000 standing dead trees, with a large majority on federal forests.
From the Chetco Bar Fire in Southwest Oregon to the Eagle Creek Fire in the Gorge, we're witnessing what happens when fires ignite on federal lands and are allowed to grow and spread to nearby communities. Science now clearly shows that actively managed forests have fewer dead trees and are more resilient to fires. As we've seen with fuels reduction near Central Oregon's Milli Fire, fires become less severe and easier to contain on forests that have been thinned. As governor, I'll replace the decades of preservationist dogma that has flourished under Kate Brown with science-based, common-sense forest management policies.
We should utilize Oregon's modern, efficient forest products businesses to create more family-wage jobs by restoring the health of our federally-owned forests. Hamstrung by her fidelity to narrow special interests, Governor Brown has done little to either lead or raise awareness of the need better forest management policies that can benefit both our environment and economy.
Instead, Governor Brown has proposed cutting state fire protection programs, done little to use the federal "Good Neighbor Authority" to allow Oregon to help treat federal lands, and pursues policies that do nothing to address the real climate change impacts of allowing our forests to burn.
If we're serious about reducing carbon emissions, Governor Brown would support efforts to expedite fuels reduction projects on public lands. In 2007, for example, emissions from Oregon forest fires produced enough greenhouse gases to equal Oregonians' 3.5 million cars being driven for three years. Rather than allowing our unhealthy forests to burn, we can put Oregonians to work harvesting trees from overcrowded forests and sequester carbon as manufactured wood products. The wood can also be used to promote green buildings through the use of cross laminated timber.
Having grown up in Douglas County, I have a unique appreciation for the economic and social value of healthy, productive forests. And living in Central Oregon, I've witnessed first-hand the devastation that arrives with each fire season. As Governor, I'll be a strong advocate to increase the scale and pace of active forest management and restoration on public lands.
And, rest assured, when the radicalized environmental activists start protesting my leadership and decisions, I won't be intimidated and I won't back down. Oregon's forests and public lands and the lives and livelihoods of Oregonians are too important.