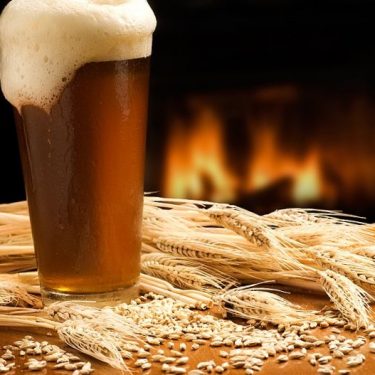 Barley no longer an afterthought in beer flavor
by Lynn Ketchum
Oregon State Extension Services
Barley has always played second fiddle to hops and yeast when it comes to flavoring beer. Now the grain is ready for its solo.
In two studies published this week in the Journal of the American Society of Brewing Chemists, a research team led by Oregon State University found notable differences in the taste of beers malted from barley varieties reputed to have flavor qualities.
Consumers aren't going to see a barley-flavored brew anytime soon in their local pub or supermarket, but the findings are an important first step toward a potential new market for beer connoisseurs, said OSU barley breeder Pat Hayes.
"We started this project with a question: Are there are novel flavors in barley that carry through malting and brewing and into beer? This is a revolutionary idea in the brewing world. We found that the answer is yes," Hayes said. "These positive beer flavor attributes provide new opportunities for brewers and expanded horizons for consumers."
In its malted form, barley is the principal source of fermentable sugars for most beers. But barley's flavor contributions to beer are usually ascribed to the malting process rather than the grain itself.
Barley World, Hayes's research group at OSU, with financial support from the beer industry, began with two barley varieties reputed to have positive flavor attributes in beer: Golden Promise, developed and released in Great Britain and OSU's own barley variety, Full Pint. They then crossbred the two varieties.
That cross-breeding resulted in several hundred breeding lines of genetic seed stock, Hayes said. They grew the offspring in test plots in the western Oregon cities of Corvallis and Lebanon and the central Oregon city of Madras.
But there was a logistical challenge in preparing that barley for brewing and sensory testing, Hayes said. OSU's progeny of Golden Promise and Full Pint each yielded only about 200 grams of malt – not enough for a reasonable sample to produce large quantities of beer for a standard sensory panel.
That's when OSU teamed with Rahr Malting Co. in Minnesota, and New Glarus Brewing in Wisconsin. The companies had developed a "nano" brewing system that could produce a single bottle of beer from each unique malt. Dustin Herb, a graduate student in OSU's College of Agricultural Sciences, spent almost a year at Rahr Malting participating in the micro-malting, nano-brewing, and sensory processes.
Out of that initial partnership, about 150 beers were prepared for sensory testing. Each panelist tasted each of the beers once and then rated it on a scale in its amount of difference compared to an industry standard control beer.
The panelists found that beer brewed with Golden Promise scored significantly higher in fruity, floral and grassy flavors. Beer with Full Pint was significantly higher in malty, toffee and toasted flavors.
"The progeny are showing all possible combinations of those traits," Hayes said. "And, since we had been doing DNA fingerprinting on these progeny, we can assign certain regions of the barley genome as being responsible for these flavors. We also found that there were some differences based on where the barley was grown, but the genetic effect was larger than the environment."
Based on the results of more Golden Promise-Full Pint progeny, finer structure genetic mapping of barley flavor genes is underway with Rahr Malting Co. The researchers are also working with Deschutes Brewery in Bend to brew more representative beers from three of the selected progeny. OSU is producing 100 pounds of malt of each of three selections, and of a control variety called Copeland, in its on-campus malt house.
"All three have unique flavor attributes and are relatively easy to grow," Hayes said. "They have outstanding malt profiles. Deschutes will brew the same beer twice for each of those three and compare that to the control. Those beers will be sent to other brewers who will conduct their own sensory panels."
In addition to Herb, OSU Barley Project members Tanya Filichkin, Scott Fisk and Laura Helgerson contributed to the research. Collaborators included scientists in England, Canada, Scotland, Spain and the United States.
The project received funding from the following breweries: Bells, Deschutes, Firestone-Walker, New Glarus, Russian River, Sierra Nevada and Summit. The Brewers Association, an organization of small and independent craft brewers, also contributed financially. Mecca Grade Estate Malting and OreGro Seed hosted the field trials.