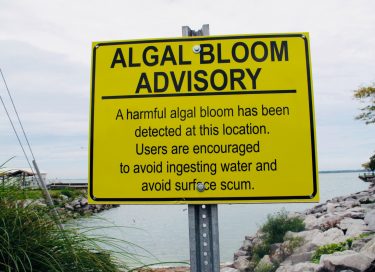 Bonamici, Kaptur, Joyce Introduce Ocean and Lake Health Legislation
Bipartisan effort improves harmful algal bloom response
Representatives Suzanne Bonamici
Representatives Suzanne Bonamici (D-OR), Marcy Kaptur (D-OH), and David Joyce (R-OH) introduced bipartisan legislation to better prepare for, mitigate, and respond to harmful algal blooms, especially in coastal communities and the Great Lakes region. In a harmful algal bloom event, algae grow rapidly and release dangerous toxins that end up in shellfish, fish, marine mammals, and birds. This threatens fisheries, drinking water, human health, local economies, and aquatic ecosystems.
"Coastal communities rely on a healthy ocean—and so do shellfish, fish, marine mammals, birds, and ecosystems around the world," said Bonamici, co-chair of the bipartisan Oceans and Estuary Caucuses. "Harmful algal bloom and hypoxia events threaten the health of our oceans, lakes, and rivers. Our bipartisan legislation will help communities better protect against and respond quickly to harmful algal bloom and hypoxia events."
"A key component of addressing our shared challenge of harmful algal blooms is to improve our understanding of when and where algal blooms will occur. After the massive algal bloom we had this summer with over 1,000 square miles of Lake Erie affected, the research our bill advances is more critical than ever. 11 million people rely on Lake Erie for drinking water and it is incumbent upon us to protect this precious natural resource. Let's pass this bill and keep up the work," said Congresswoman Marcy Kaptur, Co-Chair of the House Great Lakes Task Force.
"It's time for us to better understand the effects of harmful algal bloom so we can do what is needed to fix it," said Joyce. "This is about our lakes, rivers, and other major bodies of water here in Ohio and across the nation – where we swim, fish, and most importantly draw our drinking water. We are fortunate to have the Great Lakes as such vital resources to our communities. By studying the effects of possible harmful algal, we will know how to preserve these resources and keep our waters safe, fresh, and clean."
The Harmful Algal Bloom and Hypoxia Research and Control Amendments Act of 2017 helps combat harmful algal bloom events, especially in coastal and Great Lakes communities.
The bill improves upon existing law by:
Increasing inter-agency, regional, state, and local collaboration to address harmful algal bloom and hypoxia events;
Establishing a process for declaration of an "Event of National Significance", which triggers disaster-like funding to be available for affected communities; and
Allowing private donations to help fund recovery in an event of national significance.