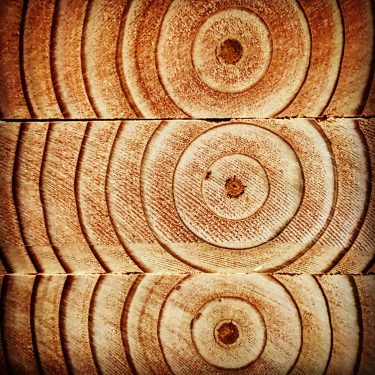 Timber Industry Report
By Rick Sohn, PhD
Coquille Lumber
Extreme weather is credited with a near-term reduction of new homes, but otherwise statistics remain quite strong, with a 12-year October record for studs and a seasonal record for logs. Recent trends of lumber, logs, home construction, and housing markets, are compared.

* A lumber board foot measures 12 inches by 12 inches by 1 inch. A log board foot is based on the log volume required to recover a board foot of straight lumber from round, tapered logs, using industry standard sawing patterns that vary with log diameter. The leftover wood, bark, and sawdust, are used for paper, fiberboard, and electric power, but are not included in the log board foot measure. Two loads of Northwestern logs make enough lumber, panels, cabinetry, and other wood products to build a new home.
Interpretation and Looking Ahead Records keep falling.
The Stud price of $405 is the highest since 2005. The log price of $749/MBF is the highest since January of 2015. In fact, it's the highest October price since before 2005, and for that matter, the highest price for any summer or fall month since before 2005. (Some December prices are higher, but December is considered winter, with forest operations in the rainy Northwest taking place on expensive rock roads in December).
Housing starts and building permits, while disappointing are widely reported to have been affected by the postponement of projects in hurricane- and fire-ravaged areas. As discussed previously, an ongoing demand for wood products, not only for new construction but also repair and remodel, will continue for some time following these major events. The good news is that the USA has been spared additional hurricanes.
The inventory of unsold homes in Portland, Oregon, at 2.3 months, is the largest in more than 2 ½ years, since February 2015. In 7 out of 9 reporting months, so far in 2017, the inventory of unsold homes is higher in 2017 than 2016. Overall, Multiple Listing Service reports that new listings, closed sales, and pending sales, are all down a few percentage points in 2017, compared to 2016. This is the result of fewer homes available, rather than a slowing economy in Oregon. There is continued demand for more new home construction, as also indicated by the continued rise in the median price of a new home, now $202,700.
The 30-year fixed rate for mortgages has, at 3.88 probably reached a bottom for now, since the latest weekly rate is headed back up, and indications are that the Federal Reserve Board will raise interest rates soon. That said, low mortgage rates have surprised us before.
For registered voters of Douglas County Oregon, the November 7 vote on the proposed Home Rule Charter deserves your attention. If this proposal passes, Douglas County will lose the voice of its elected officials, directly accountable to the voters, in the management of federal forests. This proposal is not a good fit for Douglas County, with 95% forest land — 52% owned by the US Government (US Forest Service and BLM) and 43% non-federal, mostly privately owned forest.
In contrast to the general goals of most home rule supporters, this proposed charter, written by narrow interests behind closed doors, has numerous flaws and would be a big step backward for Douglas County. A Home Rule proposal that better fits Douglas County could be developed. With its negative impacts on the forest industry, and Douglas County in general, this writer recommends a "No" vote this time around.
(Figures in bold adjust monthly. Data used with permission. 1Random Lengths. Recent week Kiln Dried 2×4-8′ PET #2/#2&Btr Hem-fir stud lumber. 2RISI, Log Lines. Douglas-fir #2 Sawmill Log Average, Southern Oregon region. 3 Annualized monthly. US Dept of Commerce. 4Portland, Oregon Regional Multiple Listing Service, courtesy of Janet Johnston, Prudential Real Estate Professionals, Roseburg, OR. 5Freddie Mac. National monthly average. 6 Federal Reserve Bank of St Louis Economic Research, National Average, most recent week. 7Zillow.com, National Median home value. (http://www.zillow.com/or/). © Copyright Rick Sohn, Umpqua Coquille LLC. Issue #10-10. Permission granted to Oregon State University to reprint. For more information, questions, or additional permission to reprint, please e-mail Rick Sohn at [email protected].)