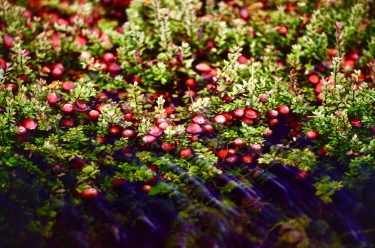 Oregon cranberry industry grows with the times
Oregon Department of Agriculture 
Growing cranberries on Oregon's south coast is a challenge– not because it can't be done or done well, but due to competition with states that have larger production and lower costs. Nonetheless, Oregon remains fourth in the nation in cranberry production and its growers are tapping the marketplace with new, innovative products that can differentiate what they produce from their counterparts in other states.
"Oregon produces many wonderful berries, and the cranberry is the last one of the season," says Oregon Department of Agriculture Trade Development Manager Theresa Yoshioka. "A lot of Oregonians may not realize that we are a cranberry producing state because the berries aren't grown near our population centers. But cranberries are an important part of the south coast economy."
Thanksgiving is often associated with the cranberry, even though products are available year around. Reportedly, up to 20 percent of both fresh and processed cranberry sales happen during the week of Thanksgiving. Harvest on the south coast is finishing up and it appears the crop will be average to slightly above average this year.
Most of the state's cranberry production takes place in Coos and Curry counties. According to the US Department of Agriculture's National Agricultural Statistics Service (NASS), Oregon last year produced 394,000 barrels of cranberries on 2,800 acres with a production value of $10.4 million. That was a significant drop from the previous year, but in line with what has been happening with the industry over the past decade. As recently as 2008, Oregon's cranberry industry was valued at $36 million even though production was roughly the same as it was in 2016. The big factor has been the price received by growers– just a fraction of what they were paid per pound nine years ago. A current glut of cranberries on the market this year adds to the price problems.
Wisconsin, Massachusetts, and New Jersey produce more cranberries than Oregon, and collectively fill the juice market with volume. Oregon cranberries are often blended with berries from other states to make the juice, but that market alone does not bring the state's growers a competitive price or differentiation. Finding untapped markets with value-added cranberry products appears to be a necessary course of action for Oregon producers.
"The industry has gone through some changes, the cranberry is not just a commodity anymore," says Yoshioka. "Over the past number of years, we've seen more and more value-added cranberry products. So we can enjoy the juices and the dried fruits throughout the year. Even so, there is more room for innovation."
Cranberries are a healthy and nutritional food item. Oregon cranberries are generally higher in brix and lower in acid than others, and have a higher percentage of fully ripened dark red berries than other growing areas. The fact that Oregon cranberry harvest is typically a month later than states back east and in the Midwest explains the darker, nutritionally-rich fruit. Yoshioka says that can be a strong selling point for Oregon cranberries– especially when they are used in a value-added product.
"That's what the market is looking for right now– innovative food products with high quality ingredients. Our south coast growers can produce that. We want to help our growers sell both locally and to other parts of the world. There is an export demand for cranberries in general. Oregon has them."
In fact, Oregon has a significant freight advantage over other growing regions when shipping to markets in Asia. Yoshioka will be helping to showcase cranberry products in Taiwan as part of a post-Thanksgiving trade mission. An Oregon company on the trip produces a variety of dried berries and fruits. One of the new products on display is a dried cranberry called the POP cran, which uses the whole fruit and a new way drying the cranberries. The result is a healthy snack that has low moisture and less sugar, with no oil added.
"Most of the consumers who like cranberries are quite impressed with the POP cranberries, as they all agree the regular dried cranberries have too much sugar, too sweet, or too tart," says Amanda Foster of Fresh Elements Farms in Salem. "The surprised look on customers' faces when they first try POP cran reassures us that this product has a bright future."
There are no similar products on the market yet. But Foster says there is a downside– as a new food item, it has been difficult to find a processor willing to make the product locally. The next step is lowering the processing cost and encouraging more consumers to try and buy the new product.
While it would be beneficial to brand Oregon cranberries, they too often get blended with those from other states. However, it's not impossible to find local fresh cranberries this time of year in several retail grocery stores. Consumers should check closely for Oregon cranberries in the produce section.
For the south coast cranberry grower, challenging times also make for exciting opportunities. The impact of the industry on local communities is significant.
"Our south coast cranberry industry consists of approximately 150 farms," says Scott McKenzie of Seaview Cranberries in Sixes. "The majority of the farms are multi-generational and support families that are an important part of the community fabric in Bandon, Langlois, and Port Orford. The children bring youthful energy to our schools and communities. Parents and grandparents are on school boards, volunteer fire departments, library boards, hospital boards, service clubs, and much more. A robust cranberry industry adds to the vitality of our communities while a depressed industry begins to tear at the fabric of our communities."
Developing new and innovative products, accessing new markets, and marketing the unique quality of food that comes from the south coast is a recipe for success when it comes to the Oregon cranberry this season.