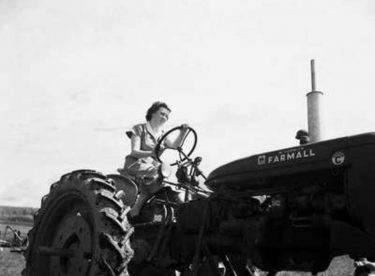 Regional conference focuses on women in agriculture
Oregon Department of Agriculture
"We can do it!" is the theme of an upcoming regional conference of women in agriculture. Oregon is one of the states able to show that it's being done when it comes to successful women connected to one of the state's leading industries.
"The theme emphasizes we can do anything we set our minds to, and this conference is about coming together, networking, and supporting each other," says Oregon Department of Agriculture Director Alexis Taylor, one of two keynote speakers for the sixth annual Women in Agriculture Conference being held on Saturday, November 18 simultaneously at 40 locations in five Pacific Northwest states, including Oregon. Director Taylor will be speaking via teleconference from her ODA office to audiences gathered in Salem, Roseburg, Redmond, The Dalles, and La Grande. Women in Washington, Idaho, Montana, and Alaska will also be gathered at various locations to hear what she says.
While the conference agenda calls for several interactive discussions and networking opportunities, Taylor has some strong advice for all attendees as she addresses the conference.
"One of my key messages is the benefit of mentorship," she says. "Whether you are in a government role like I am, in a leadership role as part of an ag organization, or a farmer or rancher, there are women out there looking to you for guidance. Whether that's done formally or informally, those mentor relationships are critical to the next generation of women leaders."
Another theme expected to be delivered by Taylor is the importance of women taking an active role in leadership.
"Being part of a commodity organization, a member of the State Board of Agriculture, or serving on a local county committee, it's all an opportunity to step up and become a leader," says Taylor. "Everybody is busy, but having a woman's voice at that leadership table is important."
Compared to other states, Oregon ranks high in the percentage of women running a farm or ranch. Nearly 40 percent of the state's agricultural operators are female while the national average is 31 percent. One in five principal operators in Oregon– the one most responsible for making the farm's business decisions– is a woman. That may not seem like a high percentage, but it is ten times higher than many other states. In general, the voice of women in agriculture seems to be greatly respected in Oregon.
"Our state is very forward leaning on having recognized the value of women leaders in agriculture for a long time, and the story they can tell with a distinct, unique voice and perspective," says Taylor. "I have been able to meet many of these amazing, dynamic women who are farming and ranching. It's not just their father's or husband's operation. These women are out there making the business decisions and working the land day in and day out."
Statistics from the latest US Census of Agriculture show Oregon with 7,013 women principal operators out of the 35,439 farms in Oregon. The market value of products sold from these women-led operations is more than $263 million. While most of the farms operated by women are less than 50 acres in size, the same is true for those with male principal operators. In fact, nearly all farm characteristics in Oregon are relatively the same whether those farms are operated by a man or a woman.
Growing up on her family's Iowa farm, Director Taylor didn't sense that her experiences would be any different had she been a boy.
"My dad only had two daughters, so when the cows needed to be fed or he needed someone to drive the tractor and haul grain, either my sister or me would do it. Nothing was off limits on the farm because we were girls or jobs that would be considered just for boys. Growing up, I didn't realize that might have been unique."
Before coming to ODA, Taylor became one of the more senior women as part of the US Department of Agriculture's leadership. Serving as Deputy Under Secretary for Farm and Foreign Agriculture Services, she oversaw the Farm Service Agency (FSA), Risk Management Agency (RMA), and Foreign Agricultural Service (FAS). Taylor worked to build new markets across the globe and improve the overall competitive position of US agricultural products in the marketplace. But one of her proudest endeavors was to lead the Women in Ag Initiative that was a driving force in USDA's mission to support the growing and diverse next generation of farmers and ranchers.
"It started out as an informal network and platform to talk about promoting women in agriculture into leadership and policymaking roles, but it evolved into something concrete at USDA," says Taylor. The initiative established a formal women in ag employee group at USDA but also focused externally on stakeholders around the country and internationally where, in some countries, women may be 70 percent of the farmers but still can't own land.
While the upcoming conference is geared towards women, Taylor says progress can't be made without the understanding, support, and buy in from men.
"I've been very fortunate to have male bosses who believed in me, who challenged me to be better and to think more critically," she says. "Because of them, I enjoy the role I have today. Without men being part of the conversation, there is only so much advancement we as women are able to make."
Taylor says the great participation of women in agriculture is one of the exciting aspects of Oregon and the state's diversity– not just in what is produced on the farm, but who is producing it– was one of the biggest reasons she wanted to come west.