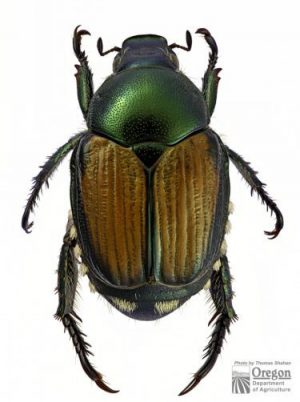 ODA makes plans for Japanese beetle battle part 2
Oregon Department of Agriculture
With year one of an expected five-year Japanese beetle eradication effort completed in the Cedar Mill area of Washington County, the Oregon Department of Agriculture is formulating plans for 2018 that go beyond this year's treatment area. The expansion is not unexpected and ODA is hopeful that community support remains impressively strong.
"Going into year two, the message really hasn't changed," says Clint Burfitt, manager of ODA's Insect Pest Prevention and Management Program. "This is still a community-based project. If we are going to be able to eradicate Japanese beetle, it's because the people in the community want to be a part of this project. What we saw this first year was strong, vocal, and explicit grassroots support from the community that they appreciate what we are doing and how we are doing it."
In 2016, ODA caught 372 Japanese beetles in traps placed throughout Cedar Mill and Bonny Slope, making it the largest infestation of the plant-eating insect pest ever recorded in Oregon. Earlier this spring, more than 2,200 residential properties were treated with Acelepryn– a granular insecticide that targets the larval stage of Japanese beetle. The application was not designed to impact this year's generation of beetles, but will affect their offspring that emerge as adults next year. Nonetheless, by the end of this summer, ODA had trapped more than 23,000 beetles.
"That number was higher than we expected but most of the beetles– roughly 97 percent– were trapped within the treatment area, which is good news," says ODA entomologist Chris Hedstrom, who is spearheading outreach efforts for the Japanese beetle eradication project. "We are confident those populations will start to go down each year of treatment in the area."
Still, with 3 percent of the beetles trapped outside the treatment boundary, ODA is proposing to increase the area treated in 2018.
"Beetles were found in a larger area of Cedar Mill, extending into Bethany and the Oak Hills area as well as some parts of Hillsboro," says Hedstrom. "So we propose to increase the number of residences that need to be treated next spring."
Response and communications plans are being finalized. Outreach and education is getting underway for the proposed 2018 project. For a bulk of the residents whose properties will need to be treated again, the messaging is more of a reinforcement of what they heard last year. But with next year's treatment area scheduled to double in size, it's time for newly impacted residents to receive an introduction to Japanese beetle and the threat it represents.
"They should all be getting a letter in the mail in January explaining our proposed 2018 operations, what the treatment involves, and the product we are using," says Hedstrom.
The mailing will include instructions on how to provide consent so that ODA has permission to enter each property in the area when treatment begins in April. Consent was also required and obtained last year before properties were treated.
"We are reaching out to everyone in the area to get the message out that we need their consent for 2018," says Hedstrom. "In addition to the letters, there will be some door-to-door visits and a couple of open house events in February where people can ask questions, get more information, and fill out consent forms in person."
In addition to once again treating lawns and turf that might harbor Japanese beetle eggs, ODA plans to add ornamental planting beds to the list of where the larvicide will be targeted and applied. Vegetable gardens or fruit bushes– anything producing food crops– will not be treated.
Not many residents are doing yard work this time of year, but ODA continues to enforce a yard debris quarantine in the area that will continue through 2018. Residential yard debris– including grass clippings, plants with soil, and sod– must be contained and delivered to the proper location. Those living within the quarantine area should continue using their curbside bin. But if yard debris must be removed from the property, it needs to be bagged or covered so that it can be taken directly to Northwest Landscape Services, 1800 NW Cornelius Pass Rd., in Hillsboro.
"Fall and winter months are much less risky for moving adult Japanese beetles around," says Hedstrom. "But there is still the risk of moving grubs and eggs around in soil. We still encourage people in the area to use their curbside bins, but they should also let their landscapers know that the quarantine is in place. It's important to contain this pest to the Cedar Mill and Bethany area for this eradication of Japanese beetle to be successful."
Washington County isn't the only hot spot for Japanese beetle activity. Nearly 200 miles away, a separate but much smaller infestation has been discovered in the Douglas County town of Oakland, just north of Roseburg. The two outbreaks are unrelated, but plans are being made to conduct a small scale treatment next spring in that community as well.
Final decisions will be made in the months ahead. But ODA is not waiting to get the word out to the thousands of residents who face the prospect of sharing their neighborhoods with an unwanted invasive insect. A strong network of partner agencies and community groups have banded together to inform the public about the threat of Japanese beetle and the opportunity to successfully deal with it.
"The threat to Oregon is more imminent now because of the numbers of beetles we are seeing and the fact that we have seen damage to plants within the epicenter of the insect's population, so it's not hypothetical, it's for real," says ODA's Burfitt, a veteran of successful Japanese beetle projects in Utah. "However, I'm still optimistic about eradicating our current infestations. As long as the community continues to support the 5-year project, I know we can get this done."