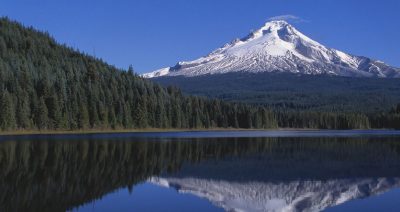 Walden bill to protect Mt. Hood, local drinking water source, signed into law
Eff legislation authored by Oregon Reps. Greg Walden and Earl Blumenauer, and Sens. Ron Wyden and Jeff Merkley to help protect Mt. Hood and Crystal Springs, the local water source for communities in the surrounding area, was signed into law today.
"This is the final piece in a decade-long effort to protect the upper Hood River Valley," said Walden. "We passed legislation in 2009 to provide important protections for Mt. Hood — a treasure to all Oregonians. This ensures that these lands will be transferred and if development occurs it will be in Government Camp, where it belongs. This critical habitat and public land will now have long-term protections for generations to come. I am proud to have worked diligently with my colleagues and move this bipartisan bill forward in the Oregon Way. I applaud President Trump for signing this critical legislation into law."
The Omnibus Public Lands Management Act of 2009 authorizes a land exchange to allow development of 120 acres of federal land in Government Camp in exchange for the protection of 770 acres of non-federal land at Cooper Spur. That law clearly stated that the Forest Service should complete the land exchange within 16 months. However, the exchange has yet to be completed, creating frustration and uncertainty in the local communities around Mt. Hood.
The Mt. Hood Cooper Spur Land Exchange Clarification Act, signed into law today, directs the Forest Service to complete the exchange, addresses disagreements over a conservation easement, and allows for a more transparent appraisal process.
The House passed this legislation in February of 2017 by a vote of 415-1, and the Senate passed the bill in December of 2017.