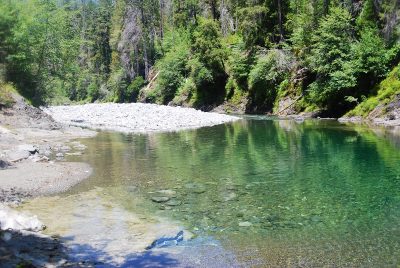 Oregon lawmakers win fight to protect more than 100,000 acres from mineral development.
Oregon Sens. Ron Wyden and Jeff Merkley and Rep. Peter DeFazio announced that the U.S. Forest Service has told them it will not revisit a southwestern Oregon mineral withdrawal protecting more than 100,000 acres from development.
That good news in a letter from Agriculture Secretary Sonny Perdue, who oversees the Forest Service, came in response to a Nov. 14, 2017 letter from Wyden, Merkley and DeFazio. The three lawmakers had urged the Trump administration in their letter last fall not to pursue a misguided and misinformed request to review mineral withdrawals from the past eight years, including the one near the Kalmiopsis Wilderness Area in southwestern Oregon.
"Oregonians expressed overwhelming support for withdrawing this valuable area from proposed foreign-owned nickel mining," Wyden said. "I am gratified that Secretary Perdue is not second-guessing that public participation and has responded positively to the request I made with Senator Merkley and Congressman DeFazio to preserve these significant natural resources."
"Mining in this area would have posed an unacceptable threat to drinking water and fish runs," said Merkley. "It's great news for Oregon that Secretary Perdue has accepted the results of the public process that overwhelmingly favored protection for these waters. We can't – and won't – allow these pristine Southern Oregon treasures to be lost."
"The prohibition on mining on the Smith River and the headwaters of Hunter Creek and Pistol River has broad, overwhelming support from thousands of residents of southwest Oregon, local governments, businesses and community leaders,"DeFazio said. "Allowing mining would have devastated this natural treasure and threatened pristine waters critical for salmon habitat and drinking water, as well as harmed the local economy. I appreciate Secretary Perdue's willingness to work in accordance with the will of the people of Southwest Oregon."
Wyden, Merkley and DeFazio introduced the Southwestern Oregon Watershed and Salmon Protection Act in 2015 to protect the area from development. At the end of 2016, the Obama administration withdrew more than 100,000 acres near the Kalmiopsis Wilderness Area from mineral development following extensive public comment periods over several years that produced more than 45,000 supportive comments from local city council members, tribal leaders, county commissioners and recreation business leaders.