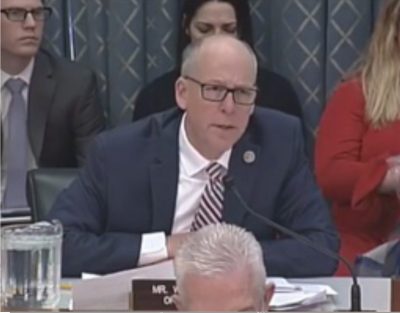 Greg Walden leads hearing on connecting rural America with broadband
Stresses importance of bridging the "digital divide" and improving broadband connectivity in Oregon
Continuing his efforts to improve broadband connectivity in rural Oregon, Rep. Greg Walden (R-Hood River) today led a hearing to examine legislation aimed at bridging the "digital divide" for rural communities across the country. Today's hearing, entitled "Closing the Digital Divide: Broadband Infrastructure Solutions," focused on bipartisan proposals to expand broadband infrastructure to underserved areas.
"If you want to talk about rural areas, my district would stretch from the Atlantic Ocean to Ohio. It is 69,341 square miles. I have places in my district where there is one person for every nine miles of power line," said Walden. "We live this gap every day and we are trying to close it. There are multiple ways to close it, but one of the best ways is to make sure we can expedite closing that gap through reforms in siting, targeting financial resources of ratepayers and the government to those areas that are underserved, and helping move this country forward to connectivity like we've never seen before."
During the hearing, Walden stressed the need to reduce unnecessary roadblocks to siting new broadband deployment projects in rural areas. Specifically, Walden raised concerns over the burdensome Environmental Impact Statement (EIS) process that communities in Oregon must complete before expanding basic broadband infrastructure on federal land.
"Again, 55% of my district is federal land so I'm somewhat familiar with this," said Walden. "I run into this issue all the time on siting. We're trying to get broadband out there, and we're trying to get three-phased power in some of our communities that have waited three years to get an EIS to get four power poles on BLM land. So I think there is an issue here with siting."
As Chairman of the Energy and Commerce Committee, Walden is at the forefront of initiatives to improve mobile broadband, make broadband spectrum more available to consumers, and increase access to telemedicine services and other 21st century technology that requires broadband connectivity in rural Oregon. More than 20 pieces of legislation have been introduced in Walden's Energy and Commerce Committee this year to expand broadband infrastructure, cut unnecessary red tape, encourage innovation, and advance public safety.
Approximately 23 million Americans living in rural areas lack sufficient access to high-speed broadband. Expanding broadband infrastructure to these communities in Oregon and throughout the country will help connect people to the 21st century economy no matter where they live, and is a top priority of Walden's in Congress.