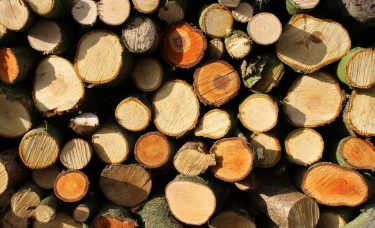 By Rick Sohn, PhD
Coquille Lumber
Log prices remain in 25-year record territory but have leveled off. Mortgage rates jumped as the Fed lifted the key interest rate to the highest in 10 years. Home prices continue to march upward.

* Wood prices are per thousand board feet. One lumber board foot measures 12 inches by 12 inches by 1 inch. A log board foot is based on the log volume required to recover a board foot of straight lumber from round, tapered logs, using industry standard sawing patterns that vary with log diameter. The leftover wood, bark, and sawdust, are used for paper, fiberboard, and electric power, but are not included in the log board foot measure. Two loads of Northwestern logs make enough lumber, panels, cabinetry, and other wood products to build a new home.
Interpretation and Looking Ahead
The price of lumber has dropped slightly, back to the January level. Yet, the price of logs remains strong, a 25-year record level at $893 per thousand board feet (MBF), due to the log shortage. Relative to January, the log price has leveled off. A standard we have used in this publication is whether or not the price of logs is more than double the price of studs. The current log prices are very strong, relative to lumber. In the last 10 years, the lumber price has exceeded half the log price only 28% of the past 120 months. For February, the lumber price was just 46% of the log price. Prolonged high log prices – over $800/MBF since November – means the average price of logs in any mill inventory, and for the last year, is very high. While mill inventories are starting to build, compared to January or February, they are still low, for many mills.
Housing Starts and Building Permits have fallen back from their January levels. Unsold home inventory at 1.9 months favors the sellers. Also, the Median US Home Value continues to rise at a steady clip, for the last 6 years.
The 30-year fixed rate mortgages have jumped, as expected, since the Federal Reserved lifted its key interest rate from 1.5 to 1.75 percent, on March 21. This is the highest level in 10 years. The Fed is optimistic that the economy will continue to expand, and it plans 3 more quarter point rate hikes in 2018. These rates are finally moving away from the historic low interest rates designed to stimulate business during the Great Recession.
In other log pricing developments, it is worth noting that the Japanese log export market remains very strong, in the Columbia River log scaling region. This high-quality log sort is averaging $990 per MBF, traditionally a much stronger market than the China low grade export, which currently averages $840 in the Columbia River area, and only $660 in Southern Oregon, according to Log Lines.
The recently passed Federal Omnibus Appropriations bill included a section that set up an emergency fire fund, sponsored by Senators Wyden of Oregon and Mike Crapo of Idaho. This $2.15 billion fund will supplement the budgeted $1.4 billion for US Forest Service fire suppression. It will also significantly help the improve forest management, by reducing or usually stopping the practice of diverting budgeted forest management funds to fighting wildfire. With only 2/3 of normal rainfall so far in Roseburg Oregon this year, and low snowpacks, another dry summer is predicted. This bill is welcome news.
(Figures in bold adjust monthly. Data used with permission. 1Random Lengths. Recent week Kiln Dried 2×4-8′ PET #2/#2&Btr Hem-fir stud lumber. 2RISI, Log Lines. Douglas-fir #2 Sawmill Log Average, Southern Oregon region. 3 Annualized monthly. US Dept of Commerce. 4Portland, Oregon Regional Multiple Listing Service, courtesy of Janet Johnston, Prudential Real Estate Professionals, Roseburg, OR. 5Freddie Mac. National monthly average. 6 Federal Reserve Bank of St Louis Economic Research, National Average, most recent week. 7Zillow.com, National Median home value. (http://www.zillow.com/or/). © Copyright Rick Sohn, Umpqua Coquille LLC. Issue #11-2. Permission granted to Oregon State University to reprint. For more information, questions, or to notify of quoting or reprinting, please e-mail Rick Sohn at [email protected].)