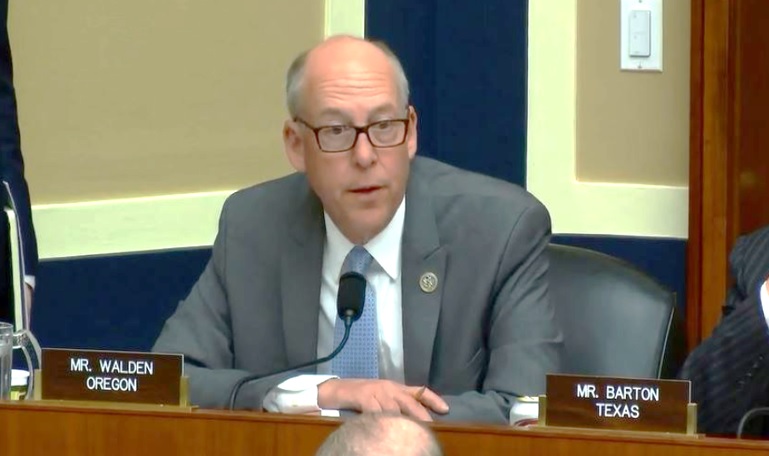 Greg Walden Press Release,
Rep. Greg Walden, Chairman of the Energy and Commerce Committee, today secured a commitment from Energy Secretary Rick Perry to not sell off assets of the Bonneville Power Administration (BPA) without Congressional authorization. During a hearing at the Energy and Commerce Committee, Walden said the Administration's proposal would have a negative impact on Oregonians and consumers throughout the Pacific Northwest.
"Mr. Perry I want to start by talking about Bonneville Power Administration. I appreciate your most recent comments about respecting the will of the authorizers, which is what we are. Along those lines, this idea of selling off electric transmission assets and abandoning cost-based rates has been roundly rejected by virtually every member of the Pacific Northwest Congressional delegation," said Walden. "It is the one idea — bad idea — that unites all of us in the Northwest. I'm afraid this move could do nothing but harm my constituents, drive up electricity costs, and hurt consumers across the region."
Along with bipartisan members of Congress from the Pacific Northwest, Walden has repeatedly raised his concerns over the proposal to privatize BPA. Walden signed a letter to Secretary Perry and Office of Management and Budget Director Mick Mulvaney in opposition to a proposal in the President's budget to sell off BPA assets.
During today's hearing, Walden asked for Secretary Perry's commitment that the DOE would not move forward with this proposal without first being approved by Congress.
"Can you assure me the DOE will leave Bonneville alone unless Congress provides explicit authorization?" asked Walden.
Energy Secretary Perry answered simply, "yes, sir."
During the hearing, Walden also stressed the importance of the DOE's continued efforts to cleanup the Hanford Site, which has been a priority of Rep. Walden's as Chairman of the Energy and Commerce Committee. Walden toured the Hanford Site in August of 2017 with Secretary Perry.
"I'm pleased to see that the budget also includes funding to fulfill DOE's legacy cleanup responsibilities, including the Hanford Site, which is located just across the Columbia River from my constituents. The secretary and I toured Hanford together last year," said Walden. "The cleanup work at Hanford requires deliberate oversight by DOE and we will continue to monitor the projects, particularly when involving worker safety. While many technical and logistical challenges remain, we're beginning to see some progress and I trust that Secretary Perry's renewed focus on Hanford will accelerate these results. I'm pleased the budget includes funding to restart the Yucca Mountain project, so the waste currently sitting at Hanford, and around the country, will be permanently disposed."
This hearing comes as Walden continues to lead the effort to clean up spent nuclear fuel that is sitting idle in 121 communities across 39 states throughout the country, including at the Hanford Site. Walden's Energy and Commerce Committee passed the Nuclear Waste Policy Amendments Act (H.R. 3053), by a vote of 49-4 in June of 2017. This legislation provides practical reforms to the nation's nuclear waste management policy, and reinstates Yucca Mountain as the cornerstone of the country's nuclear waste disposal.
For more information on today's hearing, including a background memo, witness testimony, and full webcast, please click HERE.