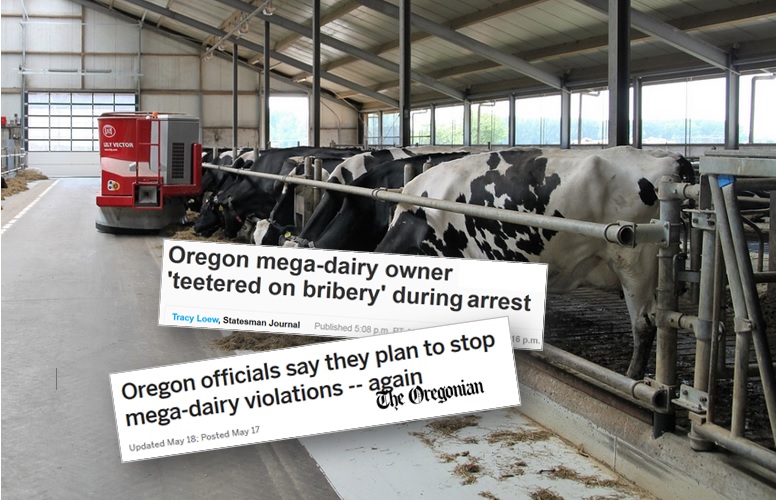 By Oregon Family Farm Association,
For more than a year, the state of Oregon has tried without success to force the owner of Lost Valley Farms in Boardman, the state's second-largest dairy, to comply with environmental and agricultural permits.
Since the mega-dairy, permitted for 30,000 animals, opened in April 2017, it has repeatedly failed environmental inspections by improperly disposing of overflowing wastewater and waste, such as allowing a container holding dead animals to leak. The state has issued four citations and fined the dairy $10,640, according to an article last month in The Statesman-Journal.
State officials sued in February to close the 7,288-acre dairy over concerns that mismanaged handling of manure and wastewater jeopardized the safety of nearby residents by potentially contaminating groundwater and both city and private wells. The dairy's spokeswoman Andrea Cantu-Schomus said overruns of wastewater and manure have not affected groundwater, according to The Oregonian.
But a mediated settlement enabled Lost Valley Farms to continue operating in a much more limited way until it proves that wastewater is being treated properly. Yet the dairy that employs 70 people has continued violating its permits since the state reached the settlement with its owner, Greg te Velde, 59, who also owns two dairies in California, The Oregonian reported. Animal rights, food safety, agricultural and environmental groups have called for the dairy's closure for failing to abide by the rules.
The Tillamook County Creamery Association has purchased the mega-dairy's milk although it announced plans to terminate its contract.
Now te Velde has filed for bankruptcy for all three of his dairies, saying he owes more than $162 million, although his revenue from all three dairies last year was $110 million, according to The Statesman-Journal. He has been sued four times at least, and companies in Oregon, Washington and Idaho contend they were never paid for their work. Te Velde claims he owes $96,000 in taxes.
His legal problems continued from last year, when te Velde was arrested in the Tri-Cities of Washington in early December on charges of possession of methamphetamine and patronizing a prostitute, The Oregonian reported. He pleaded guilty to the misdemeanor drug charge in December and faced a 90-day jail sentence, with 87 days suspended, $510 for court costs and the crime victims' fund. The charge of patronizing a prostitute was dropped.
The Statesman-Journal, which obtained records of the arrest, reported that te Velde used meth daily and has hired more than a dozen prostitutes. He reportedly offered to donate to a charity to avoid his arrest, which the newspaper reported "teetered on bribery," according to police records.