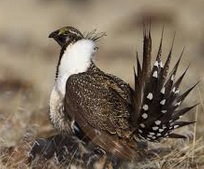 Idaho Governor C.L.Otter and several Republicans leaders are trying to join a lawsuit to stop more restrictions regarding protecting the greater sage grouse.
The Spokesman Review has more:
An Idaho ranch's attempt to block U.S. efforts to protect the greater sage grouse has attracted the support of Gov. C.L. "Butch" Otter and other top state Republicans. Otter, House Speaker Scott Bedke and Senate President Pro Tem Brent Hill asked a federal judge last month for permission to intervene in a lawsuit targeting the federal government's regulation of sage grouse habitat."Because over 60 percent of Idaho is managed by the federal government, the Idaho Legislature has a strong interest in ensuring that federal land use issues fully consider the input of our citizens that live, work and recreate on these lands," Bedke, a Republican from Oakley, wrote in his brief. The lawsuit was filed in April by Oakley-based brothers Douglas, Don and David Pickett, who own Tugaw ranch. They are being represented by conservative law firm Pacific Legal Foundation.