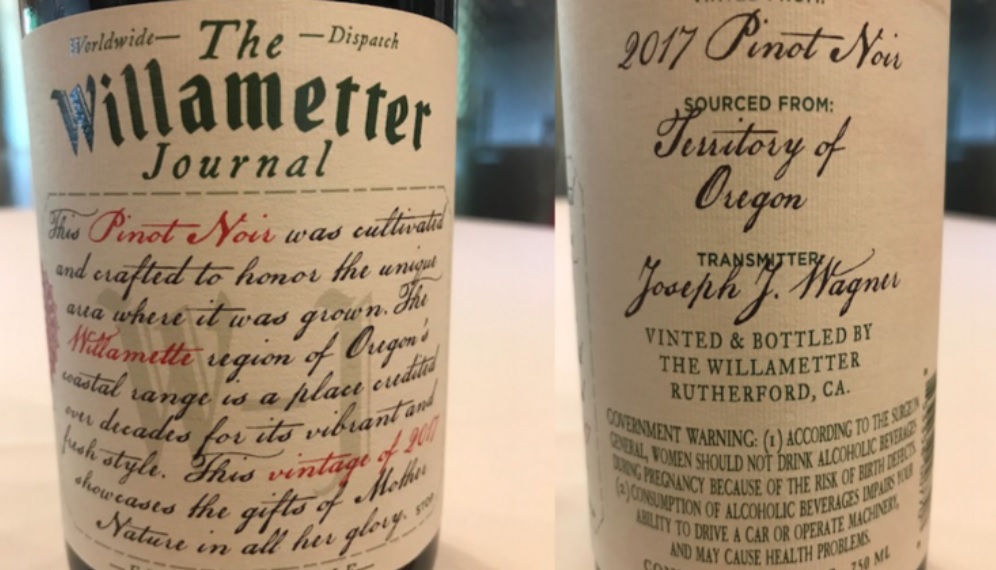 By Natural Resource Note,
Nappa Valley producer, Copper Cane Wines & provisions, has released a new wine called Willametter Journal. Many see the wine as implying it is from the Willamette Valley Viticultural Area which is a federally designated region. A complaint has been filed and could have abig impact on wine labeling.
The Capital Press reports,
State Rep. David Gomberg, a Democrat representing the central Oregon coast, also testified about Copper Cane's labels during a hearing before the House Interim Committee on Economic Development and Trade on Sept. 24, alongside Tom Danowski, CEO of the Oregon Winegrowers Association, and OLCC Director Steve Marks. The concern is whether Copper Cane is breaking the law by inferring Oregon's distinguished AVAs on its labels to boost sales, without meeting the state's rigorous standards.

"Labeling is important. So is truth in advertising," Gomberg said. "We have seen our labeling laws being tested."

Oregon adopted its wine labeling regulations in 1977, which are among the strictest in the country.

Under federal law, if a wine labels itself a particular variety — such as Pinot noir — then 75 percent of the grapes must be that variety. In Oregon, the rule is 90 percent. Likewise, federal law states that if a wine labels itself as being from a particular viticultural area — say, the Willamette Valley — then at least 85 percent of grapes must come from the AVA. Oregon requires 95 percent.