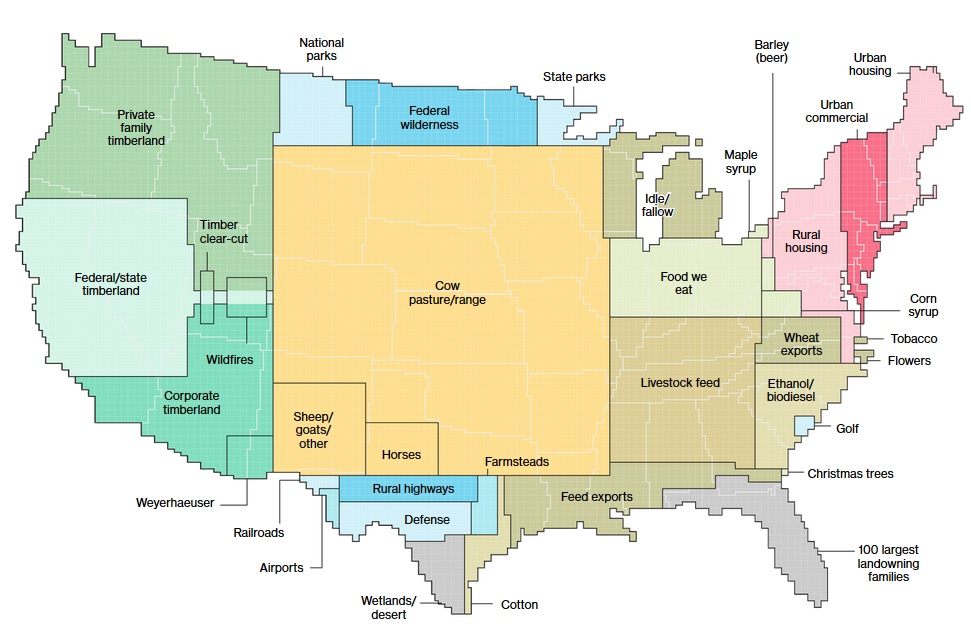 By Oregon State University Extension Service,
Bloomberg News authors Dave Merrill and Lauren Leatherby have pieced together a striking illustration of how America uses its land to create wealth. Focusing on the 48 contiguous states and using data from the U.S. Department of Agriculture and other government agencies, they divided the U.S. into six major types of land: Pasture and range, forest, cropland, special use (national parks, wildlife areas, highways, railroads and military bases), urban, and miscellaneous (cemeteries, golf courses, marshes, deserts and other areas of "low economic value"). The findings are thought provoking.
Some highlights:
– Cropland accounts for about one fifth of land (391.5 million acres) of which over 127 million acres produce livestock feed, and another 38 million acres produce ethanol. The authors estimate that only 77.3 million acres produces food we eat in the U.S.
– More than one third of land (654 million acres) is rangeland or pasture used for grazing. When combined with cropland used to produce livestock feed, the authors calculate that over 40% of land is used in some manner for livestock.
– Unprotected forest and timberland accounts for one quarter of land (538.6 million acres).
– Urban areas account for just 3.6% of land (69.4 million acres).
– National parks account for 29 million acres while defense accounts for 25 million acres. Golf courses account for 2 million acres.
Read the full Bloomberg Newsweek article here