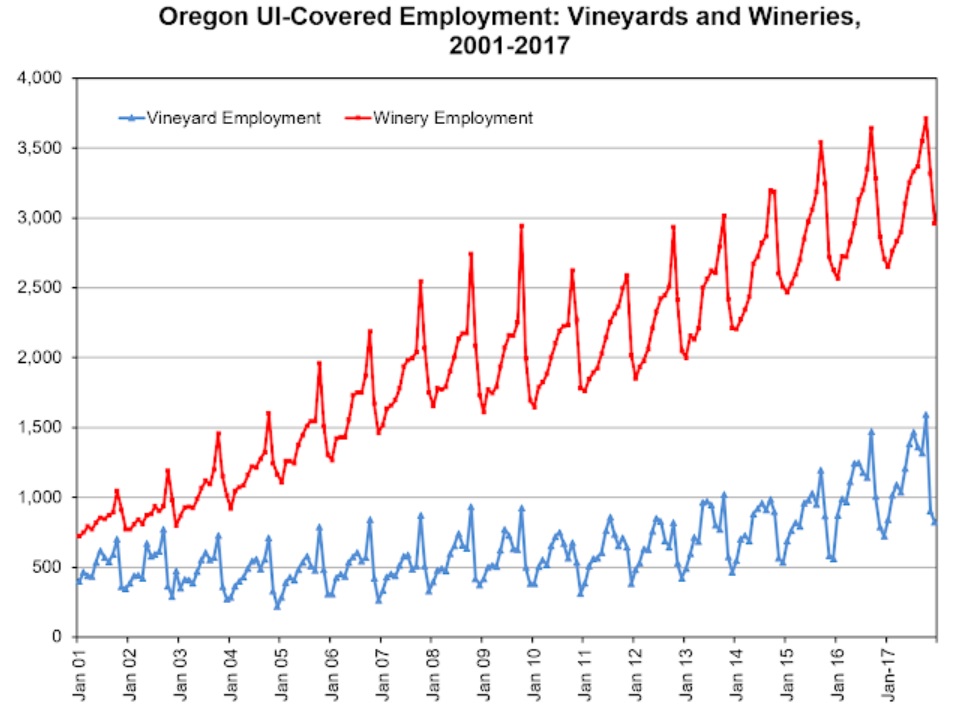 By Oregon Employment Department,
As Oregon businesses struggled during the Great Recession (2007-2009) and the years to follow, the state's grape and wine industry flourished. In 2007, there were 792 vineyards and 351 permitted or bonded wineries in the state; by 2009, that number had grown to 835 vineyards and 377 wineries. This growth has accelerated during the post-recessionary period, and by 2017, there were 1,144 vineyards and 769 Oregon wineries, of which 709 were permitted or bonded. Wine grapes ranked ninth on Oregon's top 20 commodities list for 2017, valued at $171.7 million.
The Oregon Employment Department (OED) records counted 108 firms. For those 108 reporting vineyards, OED records showed an annual average employment of 1,179 with an annual average wage of $29,855. It should be noted that given the seasonal nature of growing, tending, and harvesting wine grapes, growers often use contract and migratory workers, who are not reported under the UI system. Thus, actual vineyard employment could be much higher.
As with vineyard employment data, OED records reflect only those enterprises participating in the UI program. In 2001, OED reported 65 wineries; by 2017, that number had increased to 329 – an increase of roughly 21 wineries per year. Between 2007 and 2009, the depths of the Great Recession, the number of reporting wineries increased from 144 to 170. Total payroll in Oregon's wineries in 2017 was $110.7 million with an annual average wage of $34,997 (like vineyards, this includes seasonal and part-time workers).
To learn more about the grape and wine industry in Oregon, read Regional Economist Annette Shelton-Tiderman's full article.