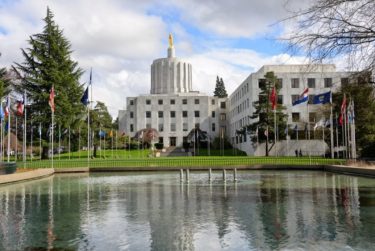 By Oregon Sportsmen Association,
People who organize or participate in fishing derbies or hunting competitions could be fined $6,250 and face up to 364 days in jail if a bill introduced in the Oregon State Senate passes.
The extreme bill, backed by the Humane Society of the United States, would end all hunting and fishing tournaments and criminalize participation in any event that involves killing wildlife for prizes or entertainment.
Hunters, anglers, and other Oregon sportsmen who care about maintaining hunting rights are urged to contact their legislators and ask them to vote no on SB 723.  The Sportsmen's Alliance protects and defends hunting, fishing, and trapping pursuits that raise the money to pay for America's wildlife conservation programs.
Oregon Sen. Sara Gelser, a Corvallis Democrat who introduced the bill, later withdrew her support for it, saying she hadn't realized the ramifications of the measure. She removed her name as a sponsor of the bill, which has been referred to the Senate Judiciary Committee for a hearing. New champions of the bill include Democratic Sens. Michael Dembrow of Portland and Jeff Golden of Ashland. Other sponsors, all Democrats, are Sens. Elizabeth Steiner Hayward of the Portland-Beaverton area and Kathleen Taylor of Milwaukie and Reps. Alissa Keny-Guyer of Portland, Courtney Neron of Aloha and Rob Nosse of Portland.
The bill would protect animal rights to the detriment of ranchers and other property owners. It was proposed in response to Human Society investigations into Eastern Oregon coyote-killing contests, including one sponsored by the Oregon Farm Bureau. Under Oregon law, coyotes can be hunted year-round with a fur-taker's license.
The bill would ban coyote tournaments often instituted to control wildlife that attacks livestock and domestic pets, and ranchers and others who try to curb predatory populations through such privately funded competitions could face jail time and hefty fines. Overpopulation by coyotes also could jeopardize the safety of children. Last fall two children in southwest Portland were attacked by coyotes, and last summer a coyote killed two Chihuahuas in a Lake Oswego back yard.
The Humane Society backed measures in Oregon and Washington to ban use of hounds in hunting cougars, also known as mountain lions. Last summer a 100-pound cougar attacked two cyclists in the Cascade Mountains near Seattle, killing one and injuring the other, and another cougar killed a Gresham woman hiking near Mount Hood, breaking and puncturing her neck.