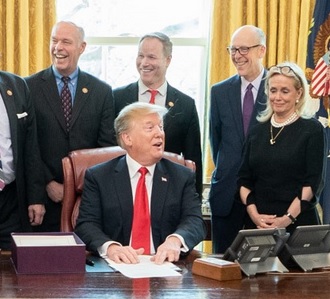 Congressman Greg Walden,
President Trump signed into law legislation introduced by Representative Greg Walden (R-Hood River) to protect a central Oregon community from wildfire. Walden's Crooked River Ranch Fire Protection Act (H.R. 524) will allow for needed management of the fire fuels that surround Crooked River Ranch in Jefferson and Deschutes counties, which will reduce the risk of wildfire for the approximately 5,500 residents living at the Ranch. Walden released the following statement:
"With another wildfire season fast approaching, today is about protecting lives in central Oregon. For more than 5,000 people living at Crooked River Ranch, this critical public safety measure will reduce the threat of wildfire that has surrounded their homes for far too long. I am proud to have worked alongside local leaders, first responders, and the community at Crooked River Ranch to move forward with this bipartisan plan that will allow for needed management of the fire fuels that put people and property in danger. I want to thank Senators Wyden and Merkley for their efforts to get this bipartisan bill across the finish line in the Senate. This action is long overdue, and I applaud President Trump for signing this commonsense legislation into law for the entire community of Crooked River Ranch. I look forward to the Bureau of Land Management acting promptly to prioritize management and fuels reduction around Crooked River Ranch as soon as possible."
The action comes after Walden wrote to the leaders of the House Natural Resources Committee on February 15, calling for swift passage of the Crooked River Ranch Fire Protection Act. Walden's legislation passed the Senate by a vote of 92-8 and the House of Representatives by a vote of 363-62 before being signed into law today.