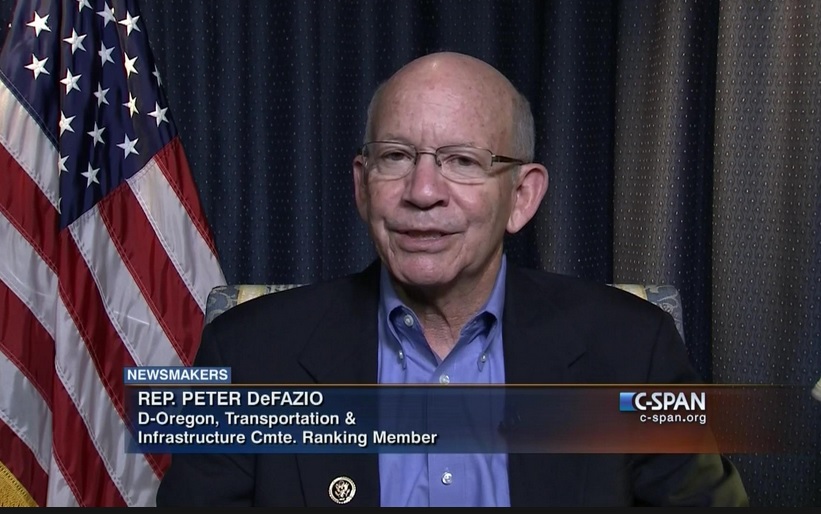 Rep. Peter DeFazio Release,
Rep. Peter DeFazio (OR-04), together with Senator Jeff Merkley (D-OR), Rep. Dan Newhouse (R-WA-4), and Rep. Kurt Schrader (D-OR-5), led a bipartisan, bicameral group of 18 senators and 33 representatives in pushing the U.S. Department of Agriculture (USDA) and U.S. Department of Labor (DOL) to reverse their decision to shut down Civilian Conservation Centers (CCC) and end the program in its current form.
CCCs provide valuable job training for young people in rural communities who thrive in alternative paths from traditional school and work tracks, and offer critical wildfire and natural disaster response support across America.
"After a difficult year of natural disasters and with hurricane and wildfire season quickly approaching, now is precisely the wrong time to be reducing capacity at CCCs," the members of Congress wrote in a letter addressed to USDA and DOL Secretaries Perdue and Acosta. "These centers not only help support these underserved youth and young adults with invaluable job training, but they also provide essential capacity for the U.S. Forest Service to fulfill its mission and provide economic opportunities in rural areas."
"Rural development is a core USDA mission, and CCC students provide significant services to rural America," they continued. "Have you conducted an impact assessment with respect to the economic impact on the rural communities affected by this announcement?"
On May 24, 2019, the USDA suddenly announced the closure or alteration of all 25 CCCs – without the consultation, notification, or approval of Congress. These centers are an important part of Forest Service culture and currently employ 1,100 people, operate in 17 national forests and grasslands across 16 states, and provide training to over 3,000 youth and young adults – many of whom were seeking an alternative to traditional office environments or come from low-income communities in rural areas. CCC programs are consistently ranked among the highest performing Job Corps centers.
The members of Congress requested further explanation regarding the decision to close or alter the centers, including any new plans to ensure public lands are maintained and any additional costs and requirements these plays may entail. Civilian Conservation Centers operate within the Job Corps program, and are designed to conserve, develop, and manage public natural resources and public recreation areas. CCC students offer critical support in responding to natural disasters, including wildfires and hurricanes.
According to the Forest Service, 1,200 CCC students provided the equivalent of 450,000 hours of wildfire support during the height of the 2017 fire season. Students also contributed 14,000 hours to improve the health of forests by treating 35,000 acres of forest with prescribed fire, and completing 10,000 hours of forest restoration work. After Hurricane Harvey hurled into the Gulf Coast, CCC students provided 5,000 hours of support to impacted communities.
Senator Merkley was joined by Senators Debbie Stabenow (D-MI), Patty Murray (D-WA), Tom Udall (D-NM), John Boozman (R-AR), Ron Wyden (D-OR), Steve Daines (R-MT), Tim Kaine (D-VA), Mark Warner (D-VA), Jon Tester (D-MT), Michael Bennet (D-CO), Tammy Baldwin (D-WI), Maria Cantwell (D-WA), Kirsten Gillibrand (D-NY), Tammy Duckworth (D-IL), Elizabeth Warren (D-MA), Bernie Sanders (I-VT), and Cory Gardner (R-CO).
Congressmen DeFazio, Newhouse, and Schrader were joined by U.S. Representatives Rob Bishop (R-UT-1), Sanford Bishop (D-GA-2), Suzanne Bonamici (D-OR-1), André Carson (D-IN-7), Rosa DeLauro (D-CT-3), Marcia Fudge (D-OH-11), Brett Guthrie (R-KY-2), Greg Gianforte (R-MT-AL), Raúl Grijalva (D-AZ-3), Deb Haaland (D-NM-1), Rick Larsen (D-WA-2), Ben Ray Luján (D-NM-3), Doris Matsui (D-CA-6), Betty McCollum (D-MN-4), Cathy McMorris Rodgers (R-WA-5), Richard Neal (D-MA-1), Tom O'Halleran (D-AZ-1), Frank Pallone, Jr. (D-NJ-6), Chris Pappas (D-NH-1), Collin Peterson (D-MN-7), Mark Pocan (D-WI-2), David Price (D-NC-4), Phil Roe (R-TN-1), Hal Rogers (R-KY-5), Bobby Scott (D-VA-3), Terri Sewell (D-AL-7), Scott Tipton (R-CO-3), Bruce Westerman (R-AR-4), Frederica Wilson (D-FL-24), and Don Young (R-AK-AL).
The full text of the letter is available here.