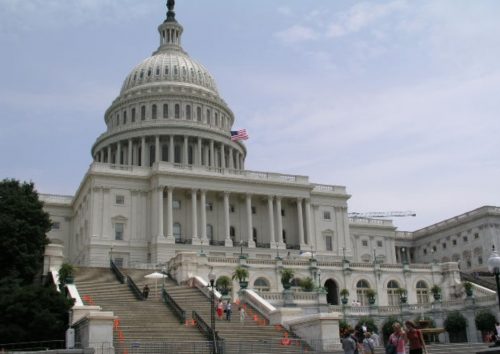 By Jamie Johansson
California Farm Bureau,
I had the rare opportunity late last month to join President Donald Trump at the White House, along with other agricultural leaders, as he announced a second trade-relief program for American farmers who bear the brunt of Chinese retaliatory tariffs.
The details of the $16 billion program were not announced by the U.S. Department of Agriculture until a few hours before the news conference. Of the 18 producers and agricultural representatives who were there—including American Farm Bureau Federation President Zippy Duvall and U.S. Agriculture Secretary Sonny Perdue—I'm sure we all had the same feeling: The news conference we all ultimately want is one that lays out details of a trade agreement with China.
In fact, the president recalled an encounter six months earlier, when he was meeting with a group of farmers before the first round of tariff mitigation programs:
"You know what we'll do? We're going to do a subsidy program. We're going to help you. And one of the farmers looked at me and said, 'We don't want (a) subsidy, sir.' I said, 'What are you talking about, you don't want (a) subsidy? Everybody is asking me for (a) subsidy.' Everybody, Sonny (Perdue), is asking us for money. They don't care what you call it; they all want money. (Laughter.) And they didn't want money."
The farmer said, "Just give us a flat table. Just give us a level playing field." He said, "We don't want any handouts. We don't want subsidies. We don't want anything, sir. Just give us a level playing field."
Long-term goals of leveling the playing field for U.S. agriculture now face short-term economic realities.
As California agriculture begins its second harvest under an escalating trade war, June 1 saw new retaliatory action by the Chinese on $60 billion of U.S. exports, including farm goods. The destabilization of foreign markets is beginning to be well documented and the predicted pain of a prolonged trade war is being felt on our farms and ranches.
Exports of California citrus to China have been cut in half when comparing 2019 and 2018 monthly reports. Almond exports to China in the first quarter of 2019 are down 40% compared to 2018.
Through advocacy efforts, we have made both the administration and California members of Congress aware of the ramifications on commodities such as citrus and almonds. The message was heard loud and clear when the announcement regarding the second tariff-aid package allowed more specialty crop growers access to all three mechanisms within the package.
After spending time with President Trump and the small group of agricultural representatives at the White House, it was clear that the administration wants to do what's best for American farmers and ranchers and, although we appreciate this second round of assistance for those who have suffered loss of market and crop value due to retaliatory tariffs, this will only provide a short-term solution to a long-term problem such as losing market access in China to competitors from other countries.
Future trade agreements can be of great assistance. We hope that discussions with Japan on a bilateral trade agreement are underway. Being able to secure an accelerated tariff reduction schedule would be very advantageous to California farmers and ranchers.
Given the enactment of the EU-Japan agreement, and the enactment of the Comprehensive and Progressive Agreement for Trans-Pacific Partnership, it is important that any matching tariff reductions also receive an accelerated schedule to ensure our commodities don't remain at a disadvantage.
Similarly, moving forward with congressional ratification of the U.S.-Mexico-Canada Agreement may help growers bounce back.
As AFBF President Duvall said recently, "It's easy to feel powerless in this situation, as our markets and our prices are dictated by forces beyond our individual control. But, together, we can have an impact. One way to take charge is by telling our story as farmers and ranchers. The more we explain how trade affects our own farms and families, the louder and more impactful our voice will become."
You can do that by visiting the American Farm Bureau advocacy website at www.fb.org/advocacy/action-alerts/share-your-story/ and recording a short video with your personal story.
It's important to let our representatives know how these trade disputes affect us directly.
(California Farm Bureau President Jamie Johansson grows olives and citrus fruit and operates an olive oil company in Oroville.)
Permission for use is granted, however, credit must be made to the California Farm Bureau Federation when reprinting this item.