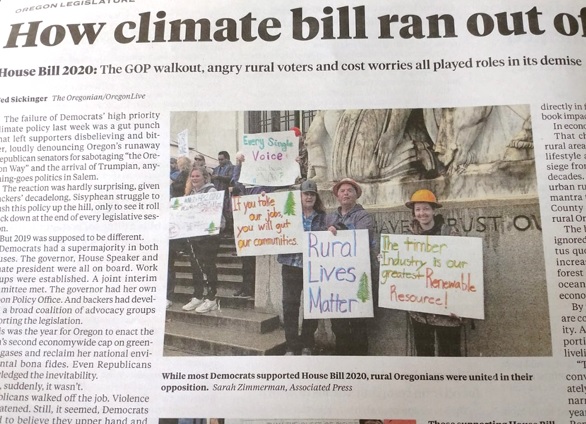 HB 2020, the Carbon Tax climate bill died in the Senate. (Photo: Oregonian highlighting rural protest)
By Taxpayer Association of Oregon Foundation
Oregon Tax News
It is official that the highly provocative and costly Carbon tax climate bill HB 2020 died as the 2019 Oregon Legislative Session drew to a close — mere hours before their June 30th midnight deadline.  The carbon tax climate bill, HB 2020, passed the Oregon House but failed in the Senate after the entire Oregon Senate delegation walked out in protest.
Senate Republican Leader Herman Baertschiger, Jr. was quoted in the Oregonian, "The bill makes the urban-rural divide stronger than ever because the biggest polluters are in Oregon's large cities. It is fundamentally inequitable to put the responsibility of cleaning up their pollution on the backs of rural Oregonians."
One of the most frequent faces of the opposition was people from rural Oregon including timber workers. The image of mill workers and loggers on the Capitol Steps was one of the most frequent images of the entire 2019 Legislature. Rural business leaders stated openly that the passage of the $700 million Carbon Tax would have devastating consequences on their communities and small businesses.
Truckers also were opposed as the Carbon Tax would have increased gas prices by 22-cents in the short term and as much as $3.00 in the longer term. Jana Jarvis of the Trucking Association commented "It's a been a concern because there is no plan to help our industry to transition to cleaner fuels. The legislation won't do anything to reduce carbon but will do a lot to increase costs". These trucking costs matter more to rural Oregon because they travel farther, raising the cost higher, as they reach Oregon's farthest communities.
The rural divide was seen during the House debate over House Bill 2020 where it was rural Democrats joined with rural Republicans in opposing this bill. It seems that the rural divide is real and that the voice and of rural Oregonians needs to be included on future environmental matters if a bipartisan and statewide path is to be found.