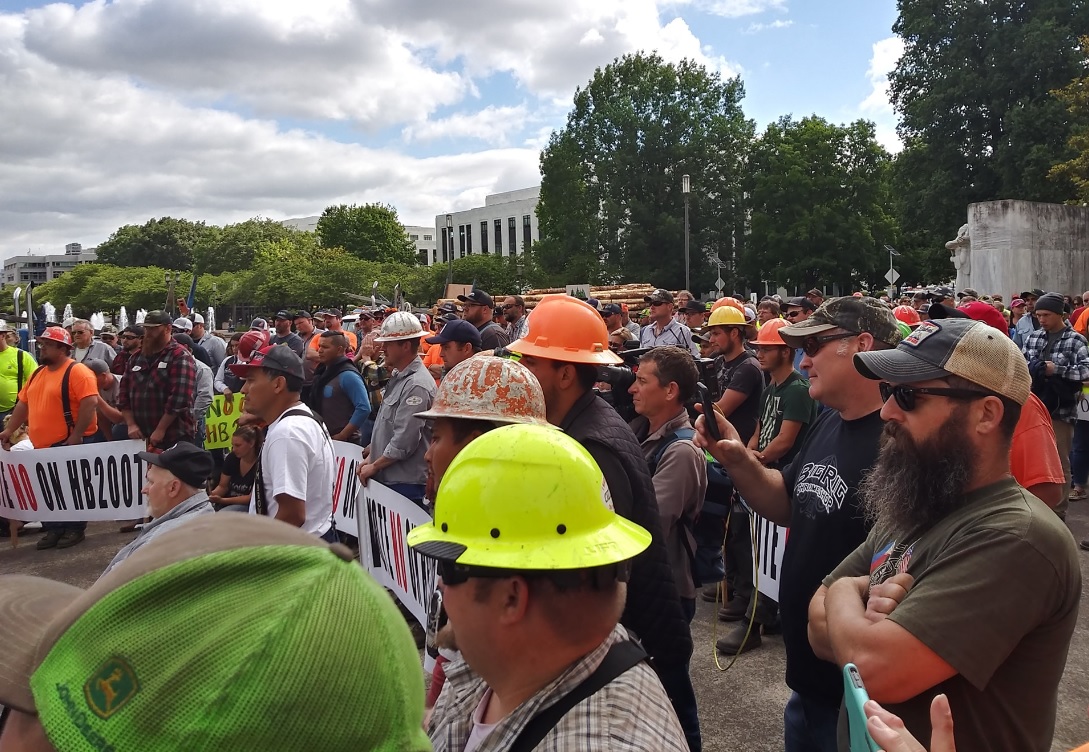 By Jim Pasero
Oregon Transformation Newsletter,
Third Century Solutions,
Q and A with Mike Pihl, Spokesman for Timber Unity
How long have you owned Pihl Logging Company in Vernonia? How did you get started? How many employees do you have? And what is the condition of private logging businesses in the Northwest post "spotted owl" generation?
Mike Pihl Logging has been in business for 37 years. It started in 1982 as Pihl Brothers Logging with my twin brother Matt. At the age of 19, I went to work logging in Alaska. I had a mission in mind to start my own business. I saved every paycheck and payed cash for my first machine; it was a Skagit yarder SJ-5. Currently we have 22 employees, which is the magic number for us. We are fortunate around Vernonia; we have a lot of private timber which is well managed, so we have plenty of timber to harvest and manage.
You are the spokesman for the rural grassroots uprising called Timber Unity. The Portland Tribune and other media sources credit Timber Unity with defeating the Cap and Trade bill (HB 2020) in the 2019 legislative session. Does Timber Unity deserve this credit and how did you become their spokesman?
#TimberUnity played a big part in defeating the Cap and Trade bill. The grassroots movement took away a lot of time and money from the backbones of Oregon. It was a necessary movement to help defeat the Cap and Trade bill.
Adam Lardy contacted me to speak at the second rally at the capitol on June 12. I educated myself and felt passionate about the 98-page disaster with an emergency clause. I felt compelled to stay involved from that point on.
In the matter of a few days in June, the Timber Unity Facebook page grew from 3,000 members to 51,000 members. There was a 20-mile line of trucks on Interstate 5 heading to the Capitol to protest HB-2020 (Cap and Trade). Why was the Cap and Trade bill the spark that started rebellion in rural Oregon? Why wasn't rural Oregon involved with this same intensity in last year's governor's race between Knute Buehler and Gov. Brown?
We felt we were about ready to get mowed over and were going to lose our jobs and our rural communities. A hard lesson has been learned with governor Kate Brown. The next election #TimberUnity and its 51,000 members will be more aware of the Democratic and Republican party candidates running.
The Portland Tribune commented on the growing power of your group, noting that two members were invited to the White House. Brad Reed, spokesman for Renew Oregon, and a leading advocate for HB 2020 said, "Sadly we know that the climate crisis is harming people in rural Oregon. They are among the hardest hit by drought, wildfire and tree disease, fishery collapse. And now it's just inaction. The White House is actively working to make the problem worse."
What's your reaction to progressives who blame the collapse of rural Oregon on climate change and not on the government's mismanagement of Oregon's national forests? Do you think climate change is real? If so, do you think the problem can be solved, and how?
Yes, I think climate change is a real issue. We already have carbon eating machines (trees) eating carbon for free without the State of Oregon paying for it. When is the last time the government ever managed anything better than the concerned private sector?
We are working the best we can working with climate change by managing forests property and buying machines that are tier 4 emissions compliant.
Todd Stoffel, a log truck driver from Washougal, explained grassroots Timber Unity's conception to the Portland Tribune: "A couple of guys had an idea and they created a Facebook page. It's been word of mouth from there. This is a voice for rural Oregon, rural America, that we're tired of being steamrolled."
Yet Aubrey Weiner, a correspondent for the Salem Reporter wrote, "The Timber Unity movement is purported to be grassroots, according to several Republican lawmakers and protestors. However, they are in part financed by Stimson Lumber CEO Andrew Miller, who is prominent on their Facebook page."
Is Stoffel correct about the origins of Timber Unity? If so, were you concerned how the media might portray Miller's relatively small $5,000 seed donation?
Todd Stoffel is correct; #TimberUnity was created by a few guys that were tired of it. Those men started when Stimson CEO Andrew Miller announced he would be closing the mill. Andrews's $5,000 stake was simply to help get #TimberUnity started in the legal process because he knew it was going to be a big movement and it was for a good cause that would help others fight the same battle.
Timber Unity has come out against the recall of Gov. Brown by the Oregon Republican Party. You wrote on Facebook, "We are not getting behind a recall effort … we want to be smart about how we ask our members to get involved and, the fact is, the legislature is what's causing the problem." How will your group make decisions about other policy issues?
There are other groups that are in charge of the recall on Kate Brown. #TimberUnity is trying to focus on the house bills that will be coming up in the 2020 session. If any bills involve the destruction of businesses in Oregon, we will defend ourselves as a group.
How does a grassroots group with such sudden prominence and public exposure maintain its original honesty, freshness and populism? How do you prevent yourselves from being co-opted by forces who want to take advantage of your sudden popular power?
#TimberUnity keeps its members and the public informed about the destructive legislation. #TimberUnity has been to many community events to stay in the eye of the public. We need to concentrate on our own forces and not be distracted by others that might want to take advantage of us as a group.
Here's how the History Channel describes your company's role on their show, "Ax Men," now in its 10th season:
Of the 2,300 residents in Vernonia, almost all know someone who relies on company owner Mike Pihl to keep their family fed. Pihl Logging is comprised of a group of men who like to trade jibes with each other almost as much as they like to cut timber. The men of Pihl are like family, at times dysfunctional but always entertaining. They may fight like brothers, but they will always have each others' backs.
What are the commercial challenges and/or benefits of starring on "Ax Men"? How do you remain focused on your company's core mission?
I have enjoyed being on the show "Ax Men." The show gets logging into the eye of the public. Because of "Ax Men," I have been given many opportunities to speak positively about the logging industry.
The challenge was that the industry was very critical of us for being on the show because of the drama involved. So this season on "Ax Men," the mission was to focus on real logging and the responsibility of it.
It has always been my main mission to run a successful logging business. I have the proper management, and I trust my guys enough for me to take some time to help fight to keep rural Oregon in business.