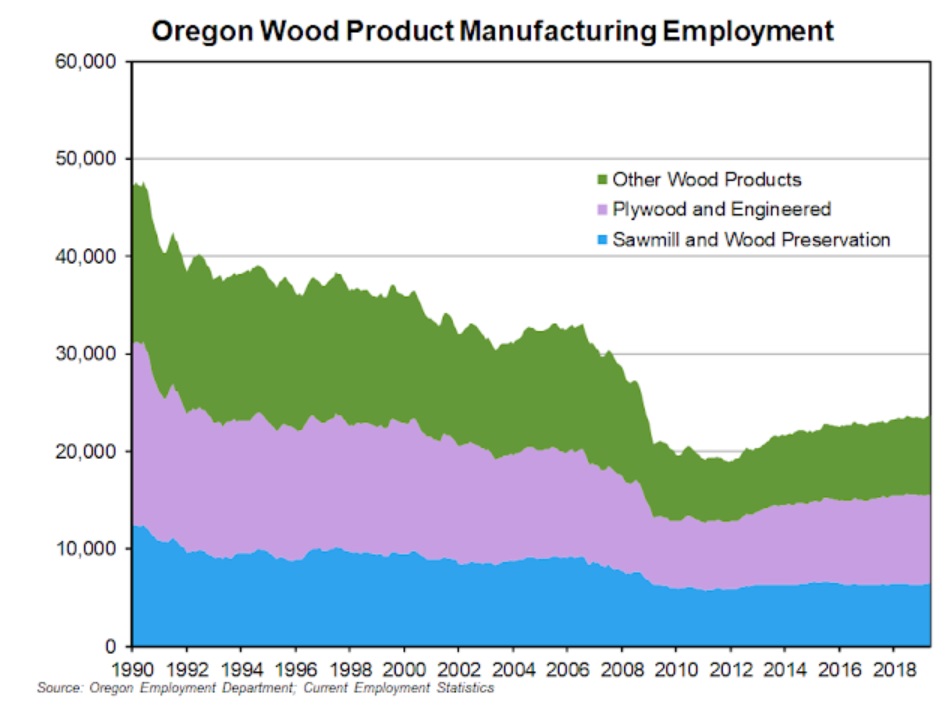 BY Oregon Employment Department
Once Oregon's largest manufacturing industry, employment in the wood product manufacturing industry has gone through large, well-publicized losses since the early 1990s, with its employment dropping below computer and electronic manufacturing and food manufacturing. Despite the losses, wood product manufacturing is still a large industry in Oregon and is especially important to rural areas of the state.
Between 1990 and 2018, annual average employment in wood product manufacturing dropped 22,600, or 46 percent. Similar losses were experienced in all subsectors, with sawmills and wood preservation dropping 5,500 (46%); plywood and engineered wood products dropping 8,800 (49%); and all other wood product manufacturing, which includes millwork and prefabricated buildings, dropping 8,200 (51%).
Although the industry has been in decline over the long term, it trended upward for a short period during a national housing boom between 2003 and 2005. During that period, the industry increased from an annual average of 31,100 jobs to 32,700, an increase of 1,600, or 5.1 percent. Then the Great Recession hit the industry hard. The overall wood product manufacturing industry dropped 13,500 (41%) between 2005 and 2011. Since then, the industry has been slow to rebound, adding 4,300 jobs, or 22 percent, between 2011 and 2018. As of the writing of this article, estimates show that wood product manufacturing continues its slow rebound, reaching 23,800 jobs as of June 2019.
Even with the decline, wood product manufacturing is still a large industry in Oregon. In 2018, there were 23,500 people employed and roughly $1.2 billion in total payroll in wood product manufacturing. While statewide the industry makes up only 1.2 percent of total employment and 1.2 percent of total payroll, the concentration is much higher in some counties, especially rural ones. For instance, in Douglas County 8.3 percent of total employment and 10.7 percent of total payroll was in wood product manufacturing. Most of the counties with a high concentration of employment in wood product manufacturing are rural.
In counties where the percent of total payroll exceeds the percent of total employment, average wages are higher in wood product manufacturing than the overall average wage. This is the case in most of the rural counties; indicating that wood product manufacturing provides some of the higher paying jobs in rural counties.
Read the full article, written by Regional Economist Brian Rooney, here.