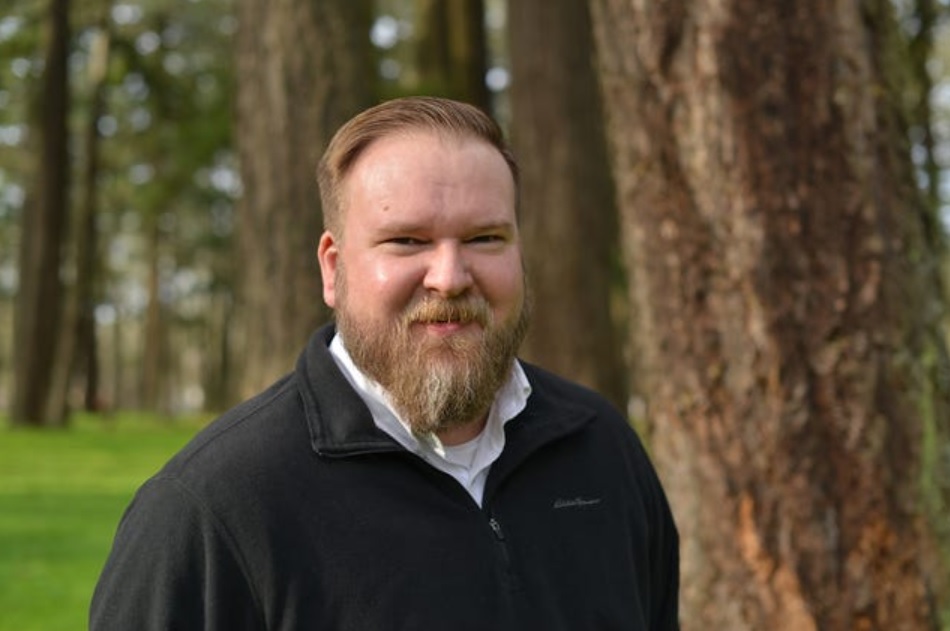 Oregon Transformation
Third Century Solutions,
Q and A with Nick Smith, Founder and Executive Director of Healthy Forests, Healthy Communities
You founded the nonprofit Healthy Forests, Healthy Communities in 2013. What is your organization's mission and why did you found it?
Healthy Forests, Healthy Communities (HFHC) is a nonpartisan, nonprofit grassroots coalition that advocates for active forest management on federally-owned forest lands, including national forests managed by the U.S. Forest Service and Western Oregon "O&C" timberlands managed by the Bureau of Land Management. We work to increase sustainable timber harvests as well as management activities that reduce the risks of catastrophic wildfires, insect infestations and disease.
As a grassroots organization, HFHC follows in the tradition of the "yellow-ribbon" campaigns that formed when timber harvesting on federal lands dramatically declined decades ago. The aftermath of the spotted owl listing caused incredible social and economic devastation to rural forested communities. Many of our timber communities haven't recovered, and making matters worse, our communities are now threatened by catastrophic wildfires that are burning on overgrown and unmanaged federal forests.
Since the successful push for the George W. Bush-era Healthy Forests Restoration Act, there was no organization that was building coalitions and engaging the grassroots to 1) support more active management on federal lands and 2) hold elected officials and agencies accountable. In 2013, there were few voices for forestry on social media. I'm particularly proud that there are over 210,000 people following us on Facebook. Our website has also generated over 50,000 emails to members of Congress and federal agencies, urging them to pass legislation, policies and reforms to increase active management for the benefit of our forests and rural communities.
Over the past several years, Congress has incrementally provided new policies and resources to increase active forest management on federal lands. Timber harvests on national forests are trending upward to levels not seen since the 1990s. Yet Congress has failed to pass comprehensive reforms that address the obstruction and litigation that continues to stymie needed forest projects. And I deeply regret that we've yet to achieve a long term solution for Western Oregon O&C lands, the only federal forests that are required to be managed for sustained yield timber production for the benefit of our rural counties and communities. There's a lot of work that needs to be done.
Oregon hosts 11 national forests, comprising nearly one quarter of the state's land mass. The federal government owns over half the state. Currently we are growing 10 to12 billion board feet of timber annually in Oregon, while only harvesting 3 to 4 billion feet. In 2017 and 2018, Oregon had two of its worst fire seasons, including the 2017 devastating Eagle Creek Fire. How concerned should we be about the overgrown, overcrowded fire traps that Oregon's national forests have become?
Oregonians living in forested communities are already concerned about conditions on fire-prone lands and the potential for wildfires. Those living in Southern Oregon's Rogue Valley are already concerned about experiencing another summer of choking smoke that has threatened their very way of life.
Even those in the Portland metro area are paying attention, especially in the aftermath of the Eagle Creek Fire in the Columbia River Gorge. Through a partnership with the Evergreen Foundation, we interviewed people in Portland and Seattle to get their thoughts on wildfires. The common thread is urban citizens are very concerned about wildfires, even if they don't understand the true causes and solutions. They want policymakers to act, and a large majority sees a role for the timber industry as part of the solution. That's a good place to start.
There have been two recent reports on the costs of Oregon wildfires. In early 2018, the Oregon Forest Resource Institute (OFRI) released on a report on the Impacts of Oregon's 2017 Wildfire Season, which was the first significant effort to measure wildfire costs especially to public health, travel and tourism and the economy.
The second is a recent report from the Governor's Council on Wildfire Response, which was tasked with reviewing Oregon's current model for wildfire prevention, preparedness and response, analyzing whether or not the current model is sustainable given our increasing wildfire risks. The council found that, over a 20-year span, the comprehensive costs of wildfires to Oregonians may easily total tens of billions of dollars. The council also determined that in order to restore and maintain "fire-resilient landscapes," the state must actively manage its forests and rangelands, and prioritize treatments (thinning, prescribed burns, fuel removal) on 5.6 million acres of Oregon's highest-risk natural systems. That is also a good place to start if we want to turn those concerns into actionable, realistic and fiscally-sound solutions.
In the past two years, wildfires burned 3 million acres in California, caused five of the state's 20 deadliest fires, forced millions to be without electricity, and caused hundreds of thousands of homeowners to evacuate their homes. Former Gov. Jerry Brown blamed this acceleration on climate change, saying that these fires are the "new abnormal and threaten our way of life."
In January, President Trump tweeted, "Billions of dollars are sent to the state of California for forest fires that with proper forest management would never happen."
Who is right about what's causing California fires? Former Gov. Brown or President Trump?
I think President Trump and Gov. Brown are both right to some degree. Unfortunately in today's political environment, these positions tend to be viewed as mutually exclusive, when in fact forest management and wood products both offer enormous benefits for sequestering carbon and reducing carbon emissions.
Our forests have been impacted by drought, insect infestations and disease, a situation I believe has been made worse by changing climate conditions. The failure to actively manage federal forests has turned these landscapes into tinderboxes that are fueling unnaturally severe fire. Wildfires release carbon stored in trees and soils, both during a fire and after as the dead trees decay.
Climate change has been weaponized as a political issue, and that is why we are seeing political "solutions" that energize partisans but accomplish little else. For example, a primary concern with Oregon's cap and trade proposal is that it would not actually affect global climate trends. And at the national level, we see proposals, such as the "Green New Deal," that would cripple the national economy and put millions of Americans out of work. Despite the political rhetoric, I believe there is a space for reasonable people to find reasonable solutions.
Oregon is well positioned to be a leader because we already have "green jobs" – the men and women who already work to sustainably manage our forests to keep them healthy and productive. Rather than crippling our forest sector economy, elected officials should be seeking to promote Oregon's unique ability to manage forests and manufacture renewable and high-quality building materials for the world.
Chuck DeVore, a regular contributor to Forbes, writes about the hundreds of millions of dead trees not salvaged in California forests:
"This is California's big secret: It's not climate change that's burning up the forests, killing people, and destroying hundreds of homes; it's decades of environmental mismanagement that has created a tinderbox of unharvested timber, dead trees and thick underbrush."
What will it take for voters to realize that the pollution released from these preventable forest fires, black carbon, is many thousand times more damaging to the environment than any greenhouse gases emanating from Oregon and California?
It is estimated California's Rim Fire released the same amount of carbon dioxide as three million cars!
California's forests have become a net source for carbon emissions, rather than a carbon sink. This is a problem years in the making, but there are solutions.
Voters are just beginning to realize forest management is part of the solution, because the people they elect are starting to look for ways to accelerate the pace and scale of forest and vegetation management.
California has the most heavily regulated forest practices in the world. Last year California Gov. Gavin Newsom was heavily criticized from far-left groups for waiving environmental reviews for a small number of vegetation management projects. But even state officials are beginning to recognize the consequences of such heavy-handed, anti-forestry policies. The state of California is now investing heavily in projects that reduce fuels. They have no choice.
With that said, we have a lot of work to do explaining the timber industry's role in reducing the risks of wildfires. The general public does not know that the timber industry invests billions of dollars in federal forest restoration and mitigation. The industry has the capacity and desire to help manage these overstocked lands if given more opportunities. The general public also needs to be educated on the importance of markets for low-value material such as wood-based biomass that can convert this material into renewable energy.
Unfortunately, elected officials have yet to make the tough decisions that are necessary to eliminate major roadblocks for forest management, namely the obstruction and litigation that is coming from a small (but well-funded) number of groups. These groups successfully exploit misconceptions about the timber industry. We need to convince people that the industry is no longer practicing 19th century forestry. The public needs to be educated on the use and potential of 21st century practices, as well as the science and technology currently used to manage forests responsibly and sustainably. It's something I work on every day.
Earlier this month, voters in the metro area passed Measure 26-204: Portland Charter Amendment Regulating Bull Run Watershed land use. According to the measure, "a yes vote was a vote in favor of adding a new Charter section restricting land use and regulating allowed activities in Bull Run Watershed." The voters passed the measure by 89 to 11 percent. What are the possible ramifications of this decision by Portland area voters? Are Portlanders at risk?
Measure 26-204 was a solution in search of a problem, and it could have long-term consequences for the city and those who purchase water from this source. Prior to the vote there were already "protections" in place to prohibit commercial development and timber harvesting on city-owned lands within the watershed. Under Measure 26-204, the city is now required to seek approval of the voters if the Water Bureau ever determined the need to do management activities, such as fuels reduction and commercial thinning, to reduce wildfire risks in the watershed.
It is well-known the Bull Run Watershed is considered to be at extremely high risk of wildfire that could severely impact water supplies for hundreds of thousands of people. It is documented that given the natural fire rotation, the watershed is due for a 68,000-plus acre fire. The ability to do proactive forest treatments across the watershed is already made difficult by the city protections that were in place before Measure 26-204. Further, a federal law passed in 1996 — combined with regulations in the Northwest Forest Plan — already makes management on federal lands within the watershed very difficult. But it's important to note that treatments on federal lands within the watershed are allowed where "cutting of trees" can result in the "the protection, enhancement, or maintenance of water quality and quantity."
What's interesting is the Portland Water Bureau is also looking to spend $850 million on a water filtration plant. The project is being driven by a federal mandate on the city to address the presence of a parasite found in water samples taken from the Bull Run watershed. Commissioner Amanda Fritz had sought less expensive ways to meet the federal mandate, yet after the 2017 Eagle Creek Fire burned to the edge of the watershed, she now believes the plant is necessary. A lot of money is going to be burned on this plant, when proactive treatments in the watershed could have helped mitigate wildfire risks at a fraction of the cost. It is no surprise that other municipal water agencies are now looking to disconnect themselves from Portland, and find other sources to supply their customers.
Forestry offers a practical and cost-effective solution for protecting the city's water supply, yet the solution is being ignored in favor of environmental policies such as Measure 26-204, which may someday put the water supply in jeopardy.
Oregon rural counties sued the state for breach of a contract entered into 80 years ago that said Oregon forest lands should be managed "to secure the greatest permanent value of such lands to the state of Oregon." The counties claimed they were owed $1 billion because Oregon failed to maximize logging on these county lands.
According to Oregonian reporter Ted Sickinger, "Depending on who you listen to, the lawsuit is either a land grab financed by the timber industry, or an effort by rural counties to get what they were promised before radical environmentalists took over the state."
In mid-November, the jury delivered a verdict for the plaintiff counties against the state of Oregon for the full $1billion. What are the chances of the 14 rural counties winning on appeal and collecting this money?
The November 20 jury decision was a significant victory for the trust counties. Their attorneys skillfully argued that promises made by state government decades ago must be honored today. However this case is far from settled. It will eventually be heard in higher state courts with judges — and likely justices — that were mostly selected by the governor.
What's interesting to me is the lawsuit asked very important questions that relate broadly to both state and federal forest management: 1) Does the law or a contract mean what it says? 2) Should government be held accountable when it breaks those promises to our communities and another government?
We are seeing this same issue play out with the Bureau of Land Management's failure to honor the O&C Act, which clearly requires the agency to harvest timber on a sustained yield basis, and share 50 percent of timber receipt revenues with the host counties. "Sustained yield" is roughly defined as the amount of timber that is grown naturally, ensuring a sustainable amount of timber for the future. The sustained yield of the O&C lands is about 1.2 billion board feet per year, yet the BLM is harvesting little more than 200 million board feet annually. Just like the state, the federal government is being challenged in the courts for its failure to the follow the law. Some initial rulings in federal court have suggested the BLM may someday be held accountable.
What is often lost in the discussion is that rural counties have lots of lands tied up in public ownership, lands that can't be taxed and can't be industrially developed for economic development. That's why timber continues to be a major source of revenue and economic activity for these counties. It is their greatest and most valuable renewable resource. This initial victory for the trust counties was an important step toward accountability.
In March 2019, Greg Walden (R-Ore.) and Cathy McMorris Rodgers (R-Wash.) introduced the Resilient Federal Forest Act of 2019, a bill designed to allow the federal government to manage the national forests better. In 2017, a similar bill passed in the House but died in the Senate. What's the current status of this bill before Congress?
Congressman Greg Walden has been a true leader for rural Oregon and has fought hard to put men and women back to work in the woods. He will be sorely missed. Congresswoman McMorris Rodgers has also been a strong and effective leader for Eastern Washington, and I hope she will continue to serve long into the future.
Both members of Congress have been instrumental in passing comprehensive federal forest management reforms multiple times through the U.S. House of Representatives. Comprehensive reforms are those that directly address the analyses paralysis, obstruction and litigation that commonly stymie federal forest management. Under these reforms, the Forest Service and Bureau of Land Management can move more quickly to implement forest projects that reduce the risks of wildfire, insects and disease; protect watersheds; enhance wildlife habitat; and other necessary activities. Just as importantly, these reforms would allow the agencies to do their jobs and manage the forests without the constant and real — and perceived – threat of litigation.
The Resilient Federal Forest Act of 2017 passed the U.S. House several times in the previous Congress, but the 2019 version has failed to gain traction in a House that is controlled by Democrats. Yet even before Democrats took over the House, comprehensive reforms would constantly fail in the U.S. Senate — regardless of whether Republicans or Democrats were in control. The challenge has been gaining the support of Western Senate Democrats who so far have been unwilling to defy the special interests at the expense of their constituents.
In lieu of comprehensive reforms, Congress has been successful in passing incremental changes, including limited "categorical exclusions" that enable agencies to implement some small projects more quickly. Yet even those small projects are being obstructed and litigated, and the problems on the forests persist.
Just this year, the state of Georgia became the number one wood products producing state in the nation, bypassing Oregon. Are you surprised by that considering the amount of timber grown annually in Oregon?
Oregon continues to a primary producer of softwood and plywood producer in the United States. Oregon is also becoming a leader in manufacturing advanced wood products such as Cross Laminated Timber and Mass Plywood Panels that are part of an exciting new trend in environmentally-conscious architecture and construction. Oregon also has some of the best foresters and loggers in the world. We are not going to give up this leadership position easily.
However, the southeastern United States is also a major producer and has steadily and significantly increased its role in timber production and wood products manufacturing. While the region contains just two percent of the world's forest cover, it produces 12 percent of the world's industrial roundwood and 19 percent of its pulp and paper products.
The southeastern United States has many advantages for the domestic industry. Like Oregon the region has some of the most industrially-productive forests in the world. It also tends to offer a more stable workforce and a friendlier regulatory environment. And unlike Oregon, the southeastern United States has more private timberlands that can be managed for industrial forestry.
Oregon and the Pacific Northwest can retain its leadership as a top timber and wood products producer, but it is critical for federal forests to contribute to the regional "woodbasket." To be clear, our federal forests do not need to be managed as industrial tree farms, contrary to what our opponents say, but they should be managed for forest health and to support rural economies.
A generation ago, the timber industry represented 12 percent of the Oregon economy. Today, timber represents just 2 percent of Oregon's GDP and harvests on federal forest lands are less than 10 percent of harvest levels of the 1980s. How effective has the Trump administration been in reversing this generational decline and its horrific impacts on rural Oregonians?
Times have changed, but timber continues to be an important economic driver for many Oregon rural communities. Forest-related employment in Oregon totaled 61,051 jobs in Oregon in 2017. The average annual wage of those jobs was $54,200, roughly 6 percent higher than the average wage of $51,100 for all Oregon employment. In many forested counties, timber still supports major portions of local economies. It's estimated that one million board feet harvested supports 11 direct, indirect and induced jobs. Oregon is better off with a robust and thriving forest sector economy.
We know that President Trump is personally interested in forest management and has committed his administration to accelerating management activities and increasing timber harvests on national forests. In response to the country's wildfire crisis, he signed an unprecedented executive order that directed his departments and agencies to use every law and policy tool available to promote active forest management.
The administration has made a concerted effort to address the analysis paralysis that commonly ties forest management projects in endless red tape and bureaucracy. This effort has included reasonable and modest reforms to implementation of federal environmental laws such as the National Environmental Policy Act and Endangered Species Act. It is unfortunate that these efforts have been mischaracterized and demonized by partisan opponents and special interests. But if successful, this effort will make a difference long after President Trump has left the White House.
At the same time, it is very difficult to turn around decades of forest mismanagement and to peel back the complex web of conflicting laws and regulations that have made management very costly and prohibitive. Executive orders do not have the force of law, and while agencies can improve rules and regulations, only the Congress can fix the fundamental problems. But Congress can no longer ignore the impacts of our broken system of federal forest management. Things are going in the right direction, even if it's not going as fast as we want or need. But I can only remain optimistic and utilize the platforms we've built through Healthy Forests, Healthy Communities to get the message out and help make a difference.
— Follow more at Oregon Transformation Newsletter,