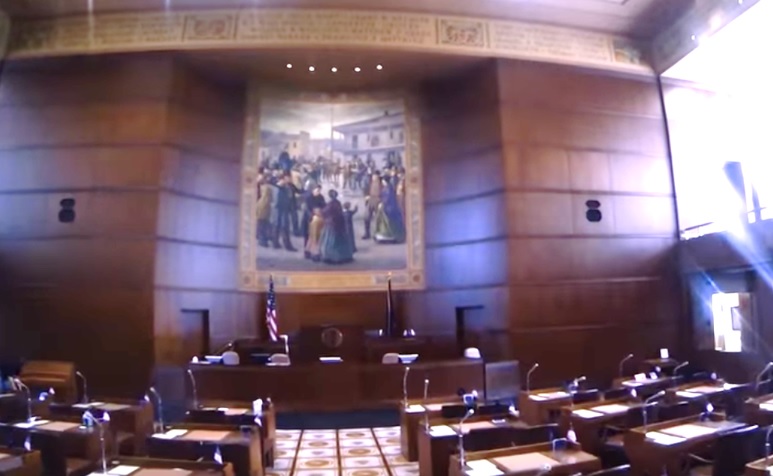 By Oregonians for Food and Shelter,
Last week, the legislature charged closer to a meltdown as the controversial cap-and-trade bill, SB 1530, left its original committee late Thursday. Meanwhile many other committees scrambled to meet yesterday's deadline to pass bills, even if it meant truncated time frames for public testimony or thoughtful consideration of amendments, particularly over the decision to ban chlorpyrifos. The horse-trading over bills, amendments and votes is at its peak, and is further complicated by external factors and the ballot initiative process.
Late Wednesday night, Senate Democrats published a 177 page amendment to SB 1530, less than 24 hours before its scheduled work session. As the Senate Environment and Natural Resources committee commenced, trucks began circling the Capitol and blowing the ominous sounds of air-horns while the legislators worked through a litany of amendments. Earlier in the day, the House Energy and Environment Committee sent its version, HB 4159, to House Rules, just for safe-keeping. Unsurprisingly, the Committee voted on party lines to send the bill to the Joint Committee on Ways & Means where it is expected for a vote early next week.
OFS, our members, grassroots, and our legislative allies have spent significant time working to protect growers who use chlorpyrifos on their crops. HB 4109 would ban chlorpyrifos and implement immediate restrictions on its application. In addition to the specific challenges for growers, the implications of a legislatively directed product ban could create significant challenges for all farmers. OFS proposed its own amendment to direct Oregon Department of Ag to implement such restrictions, and during the hearing, Republicans supported an amendment to reach the same safety measures but maintain the product for emergency pest outbreaks and for growers who need it to meet export requirements. Democrats on the House Health Care Committee opposed the amendment and voted in favor of the bill without any input from the Oregon Department of Agriculture, OR-OSHA, or other technical experts.
As noted, we continued our efforts to shape HB 4024 to ensure appropriate scope and consideration of disclosure requirements for hydrofluorocarbons. While the bill seems to have consensus, any bill's fate may depend on the reaction to the cap-and-trade debate.
Finally, as many of you know, news broke last Monday of the MOU signed between our forestry partners and environmental groups regarding several forestry ballot initiatives and pesticides legislation for the 2020 session. The agreement will lead to a stand down on massive initiative petitions that were making their way towards the November 2020 ballot and agreed-to legislation related to helicopter aerial application of herbicides in forestry. Signatories to the MOU include many OFS partners in the timber industry.