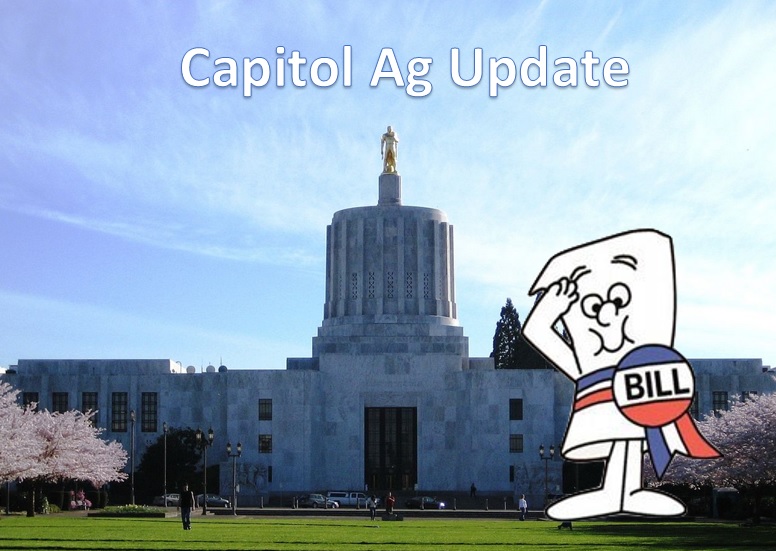 By Oregonians for Food and Shelter,
Last week was a challenging week in Salem with several risks for those employed in natural resources, including movement on legislation that would ban chlorpyrifos (HB 4109) and continued uncertainty over cap-and-trade (SB 1530, HB 4167).
OFS staff remained in the Capitol late Friday evening and joined a group of our members to voice concerns over the proposed ban on chlorpyrifos in the Senate Committee on Environment & Natural Resources. HB 4109 was moving quickly through the Senate after the House of Representatives passed HB 4109 on Wednesday afternoon. In a debate that lasted over two hours, Representatives Shelly Boshart Davis and Christine Drazan led efforts to try to slow down HB 4109 and supplant the existing language with a bill that would provide protections for growers with no alternatives. The bill passed the House on a 32-24 vote margin with all republicans voted "no" on passage. The republicans were joined by three democrats representing rural and agricultural areas of the state-Rep. Caddy McKeown, Rep. Anna Williams, and Rep. Susan McLain-who all voted for the measured approach in the minority report and against the outright ban. We thank these legislators for standing up for a compromise that serves both public health and Oregon agriculture.
Tonight's senate hearing on HB 4109 came just 48 hours after passage in the House, and it was clear that the bill was slated to move quickly. A big "THANK YOU" to those farmers and crop consultants who came to Salem to educate the Senate Environment & Natural Resources Committee about the safe and responsible use of chlorpyrifos in Oregon. OFS sent out an action alert yesterday evening, and we had over 20 growers attend the hearing to testify in opposition or lend support! The Committee carried the hearing over until next Tuesday when they will continue to take testimony (those who previously signed up) and potentially consider a vote on the bill. Please keep writing in and letting your senator know how this bill would impact your operation!
While OFS remained intensely focused on the chlorpyrifos debate, everyone in the Capitol has been tracking the ever-evolving drama around SB 1530 and HB 4167. With additional hearings on the cap-and-trade effort throughout the week, all eyes will be watching the Joint Ways & Means Committee next Monday to see if SB 1530 will be voted out of committee and sent to the Senate and House floor. This event could trigger a walk-out by some, if not all Republicans. On Friday, Rep. Boshart Davis released a legal opinion indicating that SB 1530 may be considered a tax, and therefore require a 3/5ths majority vote. Of course, a walk-out could mean the death of SB 1530 as well as other problematic bills still in the process.
Also of note this week, HB 4168 was introduced by the House Committee on Rules. This bill is the vehicle for implementing the Memorandum of Understanding negotiated between the environmental community and a number of Oregon timber companies. The -2 amendments contain the agreement that was reached related to helicopter aerial application of herbicides in forestry. The next stop for this bill is the Joint Ways & Means Committee where it must pass before it goes to a vote on the House and Senate floors. We will keep you updated as this bill moves through the legislature.
Finally, OFS appreciates the work of Rep. Julie Fahey to find consensus on legislation to phase out hydrofluorocarbon technology in Oregon. We anticipate that HB 4024 will be amended and move out of the Joint Ways and Means Committee next week.