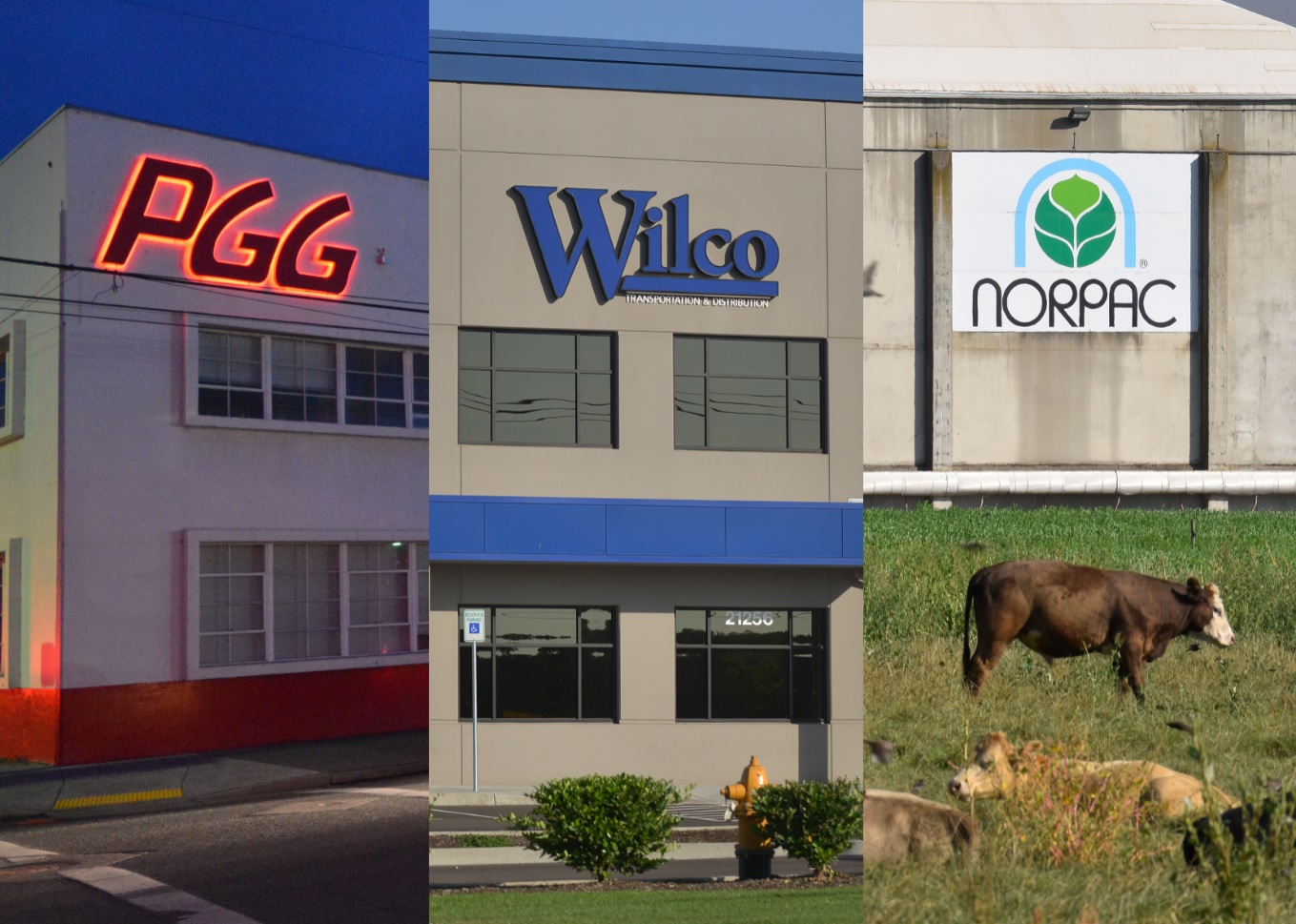 By Jeff Reynolds
Here is timely information I received from the Ag community that brings attention to very important issues facing Oregon farmers.

Co-Op Board Election Raises Questions
Is it wise to have a small group of growers, with a vested interest and potential conflicts, have majority control on the Wilco Farmers' board of directors?
With the total collapses of huge and trusted agricultural cooperatives in Oregon such as NORPAC and Pendleton Grain Growers, Oregon ag needs to pay close attention to our valuable cooperative institutions.
Wilco Farmers' cooperative boosts over 3,000 diverse agricultural producers located throughout the entire Willamette Valley, greater Oregon, and portions of Washington State. This past week members received their ballots for the election of the board directors for Wilco Districts 1, 2, 5, and 6. What struck many farmers was the number of "hazelnut" farmers running for the board.
As a "supply" cooperative, Wilco Farmers had grown rapidly over the past few decades, with substantial financial returns for it's 3000 members, with a diverse board of directors from many crop backgrounds. However, since Wilco's 2016 merger with the hazelnut "marketing" cooperative (Hazelnut Growers of Oregon, known as HGO), the ride has been bumpy, with substantially lower returns. A newly consolidated Wilco/HGO board does not reflect the farm diversity of the entire Wilco membership.
Of that 3000 growers, only around 200 growers grow hazelnuts for the cooperative, or less than 10% of all of the farmer membership of Wilco. Wilco officials quoted in the Capital Press stated that HGO's hazelnuts only makes up 17% of Wilco's total sales.
With only 10% of the farmers, less than 20% of the sales, yet it appears that the Wilco board could soon become a voting majority of hazelnut farmers and their family members (it may be already).
The Wilco Board of Directors needs to be more transparent on what is happening at the highly respected cooperative, and more aware of potential conflicts of interest, or Wilco could risk the valuable reputation the co-op has built over the past decades.
First concerns were raised by the Capital Press newspaper when they pointed out that the cooperative continues to have significant key-staff turn-over at the Wilco headquarters, and near total staff turn-over within the HGO hazelnut division. For example: In the just the past three years Wilco has had three different CEOs, experienced the unexpected departure of long-time and highly respected Wilco CFO Randal Moore, the separation from long-time HGO CEO Jeff Fox, and the quick partings of two different Director/VP of Sales Lucas Schmidt, and then Patrick Gabrish among many, many others.
Then the financial results did not match with pre-merger promises. In 2016, Wilco member/farmers were repeatedly told that HGO would be held as a sperate entity with separate capital and retain pools. "Two separate pools, two separate checks."
Yet just three years later the financial burdens and debt risks appear to be falling unfairly on the 2800 farmers who are not connected to the hazelnut pool. Wilco announced that that the equipment cost inside the new HGO plant had ballooned to well over $20 million, in additional to leasing the huge new Donald facility, of which half is dedicated exclusively to hazelnuts. According to the Marion County Assessor's website, the new Wilco Donald facility was recently sold to a private equity holding company for a reported $22.5 Million, which means Wilco's lease payments must be very large to justify such a huge valuation. More debt and lease payments mean significant cash out flows of debt and lease payments weighing on Wilco's financials. The above financing amounts to a huge $30-40 million hazelnut facility in what is still, and will continue to be, a very small $70-$150 million Oregon hazelnut industry. At last year's Wilco annual meeting Tim Ramsey announced multi-million dollar losses at HGO, which affects payments to other farmers.
In Wilco's President/CEO Report release last week, the new Wilco CEO Sam Bugarsky stated, "…the Wilco Board of Directors has decided to postpone decisions around prior year equity revolve payments until after a strategic planning meeting…". This is traditional cooperative language implying that most Wilco farmers will not see the patronage payments that they should be expecting from their cooperative.
Are hazelnut growers seeing these losses their new venture is creating? To the contrary, hazelnut growers were informed last month by Wilco management that they would now be paid more than HGO grower price announced last fall at harvest. They will now be paid the full cash price as hazelnut cash competitors had paid, even though these payments to hazelnuts members will create losses for the non-hazelnut Wilco farmers within the cooperative.
The above comments hint at a board that is disregarding the equity and patronage of the majority 2800 non-hazelnut farmers, to the benefit to the 200 hazelnut farmers. The Capital Press reported in 2016 that over 20% of Wilco members voted against the merger at the time, near unanimous (99%) support of HGO members voted in favor.
Did the 2016 Wilco/HGO merger and board consolidation lead to a small group of farmers that make-up less than 10% of Wilco's membership, and when hazelnuts amount to less than 20% of total revenue, having disproportionate influence on the Wilco Board? It raises questions that the board needs to answer:
#1. How are the HGO's grower losses being assigned within the Wilco membership/equity?
#2. Are there still "two separate pools" as was represented to Wilco member in the 2016 vote, or are the 2800 non-hazelnut farmers' money actually bearing the cost to cover HGO losses?
#3. Is there a plan to assure that other Wilco members are fairly compensated for the risk HGO is placing upon the cooperative's non-hazelnut members and their individual equity?
#4. What if it becomes in the best interest of Wilco, and its majority owners, to "pull-the-plug" on the HGO experiment, does the board currently have the independence to do so?
It is unclear the answers to these questions, but it is clear the Wilco Board will need begin providing more transparency to the majority members. It also points to electing independent voices from other ag sectors to Wilco's Board of Directors, to assure the board is answering to all 3000 members, and not just a small vocal minority.
Other creative protections for farmers could include: a. limiting the number of hazelnut farmers that are allowed to be elected to the Wilco board. b. Create Wilco board positions open to outside independent members who can bring true independence and an outsider voice to the board.
Wilco Farmers has been a vital pillar of strength in Willamette Valley agriculture, and we need to work to preserve and protect this important cooperative.