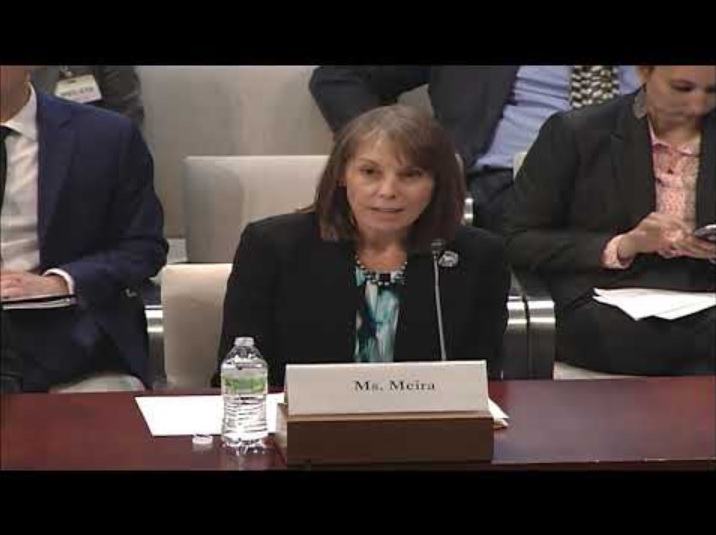 As featured in Oregon Transformation Newsletter,,
Q and A with Kristin Meira, Executive Director, Pacific Northwest Waterways Association
What does Pacific Northwest Waterways Association do?
Pacific Northwest Waterways Association (PNWA) is a nonprofit, nonpartisan trade association that advocates for federal policies and funding in support of regional economic development. PNWA is a collaboration of businesses, public agencies and individuals who combine their economic and political strength in support of navigation, energy, trade and economic development throughout the Pacific Northwest. We've been around since 1934, and our membership has grown to include over 135 entities including public ports, barge companies, steamship operators, grain elevator operators, agricultural producers, forest products manufacturers, electric utilities, irrigation districts and public agencies throughout Washington, Oregon and Idaho. Our group takes pride in being a source of information in the region and in D.C., and we appreciate the opportunity to highlight how important infrastructure is to everyday life in the Northwest.
Oregon Gov. Brown wrote to Washington Gov. Inslee stating that removing dams on the lower Snake River in Washington must be part of a comprehensive plan to save endangered salmon, steelhead and orcas. Brown wrote, "No other action has the potential to improve overall survival two- to three-fold and simultaneously address both the orca and salmon recovery dilemma." In response, Washington's three GOP congressional representatives, Dan Newhouse, Cathy McMorris Rodgers and Jaime Herrera Beutler issued this statement: "Gov. Brown's position is not only misguided, it is shocking and extreme." What do you think of Gov. Brown's proposal? Is it "shocking and extreme"?
We share Gov. Brown's passion for the recovery of the three southern resident orca pods that frequent Puget Sound and the Snake River salmon runs that make up a portion of those orcas' diet. We look to the National Oceanic and Atmospheric Administration (NOAA) when it comes to expertise regarding salmon and orcas. NOAA is the federal agency responsible for the recovery of those species, and their scientists have done a tremendous amount of work to better understand what it will take to help fish and whales. What is clear – there is no one action that can act as the silver bullet for salmon or orca recovery. Salmon and orca both migrate great distances, and as such, the impacts on those species occur in many different locations. Successful salmon and orca recovery won't occur with one discrete, extreme action in one part of the region. It needs to be a multi-generation commitment to changes and improvements that are region-wide in addition to a much larger conversation and effort to address ocean conditions and toxic pollution.
Gov. Inslee held meetings across Washington State to discuss the threat of orca extinction, as well as the status of the salmon and steelhead that make up a lot of the orcas' diet. Inslee is gathering views on the removal of the dams from stakeholders and will issue his report in March. Do you think Inslee will come to the same conclusion as Brown?
I think the views on Snake River dam removal were pretty well known already, and I question whether Washington taxpayer dollars needed to be spent on a survey of opinions. We appreciated the opportunity to provide our input, and were respectful of the process. However, with limited funds available for salmon and orca recovery, we would suggest that there are real projects around the region that could make a difference for those species in the near term, and would be a better use of recovery dollars. I would also point people to the work NOAA has done to evaluate all of the west coast Chinook salmon runs that make up the orcas' diet. NOAA highlights salmon stocks around the Salish Sea and Puget Sound as primary targets for recovery, as increases in those stocks will bring significant benefits for the orcas.
In response to Gov. Brown's proposal, Knute Buehler, candidate for Oregon's 2nd congressional district, issued this statement: "The Snake River dams were built to provide several benefits to the region, including a clean, carbon free renewable source of electricity, barge transportation, and irrigation for crops in the Columbia River Basin. Removing carbon-free hydro on the Snake River is the first step toward tearing out hydro on the Columbia River. This new Kate Brown position is radical and threatens critical Northwest energy and agriculture jobs." Is Buehler right? Is this the first step toward tearing out all hydroelectric dams on the Columbia River?
The dams are federal projects and were built to serve multiple purposes. We're hoping this is an opportunity to better educate Northwest residents about the important benefits of both the Snake and Columbia River dams. Many people are new to the region, and may not even realize the source of their electricity when they flip their light switch or charge their electric vehicle. We are very fortunate to have a renewable supply of power that is carbon free, and because hydropower is so reliable, it can serve as a source of "firm" power to help integrate intermittent renewables like wind and solar.
Your organization recently contracted a study to evaluate transportation impacts that would be caused by the Lower Snake River (LSR) dam breaching and closure of four LSR locks. Why did you conduct the study? Were you anticipating the Oregon governor's aggressive approach to Lower Snake River dam removal in 2020?
Though we didn't anticipate Gov. Brown's letter, our study provides important information that could be helpful to decision makers here in the region and in Washington, D.C. Our study reviewed just a few of the many impacts that would be sustained if barging were eliminated from the Snake River, including transportation cost increases, increased injuries and fatalities from moving cargo by different means, and the carbon and other emissions that would increase if barging went away.
Highlights from that study include:
• The Columbia/Snake River system is the largest wheat gateway in the U.S., almost half of wheat exports arrive by barges moving through the Columbia River/Snake River system.
• Removal of the four lower Snake River dams would cost the U.S. over $4 billion over the next 30 years.
• Removing the Snake River locks would increase transportation costs by 50 to 100% for wheat exports and will increase diesel consumption by nearly 5 millions gallons per year.
• The average annual farm income in the region is only $42,825, about 25% below the national average. Dam removal will put approximately 1,100 farms at risk of bankruptcy, as well as the 4,000 jobs the industry supports.
• The carbon emissions increase from just removing barging transportation and moving the products by road and rail would be like building a coal plant every five or six years.
Does the public understand what's at stake? Do they have any idea of the impacts of Brown's proposal to breach the Lower Snake River dams?
Moving cargo by water is often an unseen, under-appreciated mode of transportation. Unlike roads, bridges, railroad tracks and airports, most people don't interact with channels, locks and other navigation infrastructure on a daily basis. We take for granted how products move, whether it is the stuff we grow and make in the U.S. for export, or the items we import for our own use.
The Snake River is an especially important part of our U.S. export system. Countless farm families and entire communities in the Palouse region would be devastated if they were to lose access to export markets for their high quality soft white wheat and other products. These farmers and other producers are shipping to very challenging overseas markets, and domestic transportation rates are all part of the equation when it comes to keeping U.S. products competitive overseas. Other countries are investing in their transportation infrastructure, because they recognize that it is the difference between their citizens being competitive or not. It makes no sense to take an extreme action that would devastate U.S. supply chains, when there are so many other actions that would have a beneficial impact for Northwest fish runs and orcas.
In vehement opposition to pending "cap and trade" legislation, Oregon's new grassroots political movement, Timber Unity, set a Guinness World Record with the longest truck convoy in history. Do you anticipate a similar populist push back from your members and farmers with regard to dam removal?
The U.S. Army Corps of Engineers, Bonneville Power Administration and Bureau of Reclamation are jointly releasing a draft plan for Columbia Basin dams on February 28. This plan has to balance of lot of objectives: operating the dams for hydropower, irrigation, flood control, navigation, recreation … all while avoiding impacts to ESA-listed species. The plan has been under development for nearly four years, and to say it is highly anticipated is an understatement! The federal agencies have a tough task. As humans, we expect a lot from our rivers. We know the plan will likely have elements we support and elements that give us concern, as will be the case for many interests in the region. We also know the plan will result in significant press coverage of the rivers, and our members are planning to use this opportunity to educate the region about healthy rivers that meet many goals – clean power, efficient transportation, irrigation for high quality crops, protection from flooding, recreation and strong fish run.