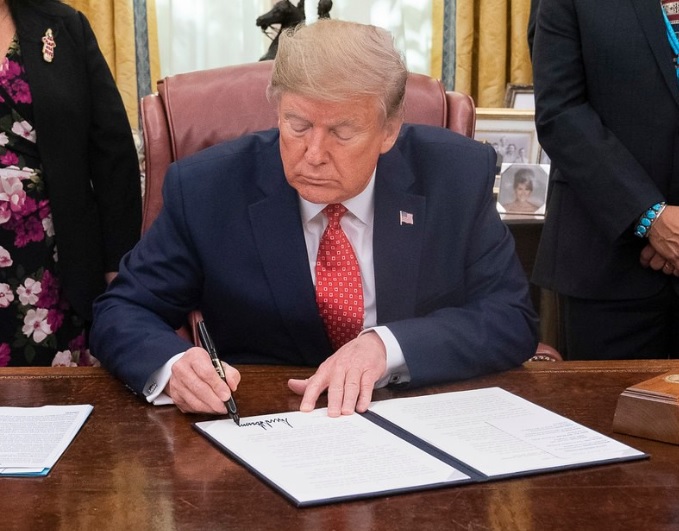 Ryan Kliewer
The Trump administration's scored an apparent win over the state of Oregon.  The battle lines were drawn when Oregon Water Resources Department posted a notice to cease and desist operations of water flows, that violate state law, on the Link River Dam in southern Oregon. The Water Master for the area, Danette Watson, posted the notice to cease and desist on  after being directed by OWRD official Tom Byler at the state to do so.   Morning flows were still continuing as scheduled by Trump's Bureau of Reclamation.
Earlier in the week, a writ of mandamus was handed down from a Marion County Court. The writ directed Oregon water resources department to act upon state law to counter the scheduled violation of Oregon's adjudicated water rights.
The state Water Master for the area has the authority to physically control the structure in accordance with state law, but when asked about her next action to be taken she responded," I don't know what to do."
There has seemed to be a reluctance from the state to step into the situation after the Oregon DOJ fought tenaciously against the writ.
This issue opens the question about many other 10th amendment claims of Oregon. The state of Oregon has been very determined to create its own laws on issues from sanctuary States to recreational marijuana. Some marijuana growers in southern Oregon are watching the scenario intently. One marijuana grower, who requested not be named, said, "If the state backs down here I might be out of a job." If the state allows the federal government to trample on the tenth amendment rights that Oregon has exerted, then what will stop the federal government from shutting down recreational marijuana, sanctuary States, and especially right now, covid-19 management?
Despite the efforts of Oregon, Trump's interior department keeps wasting water down the river and thumbing its nose at Oregon.