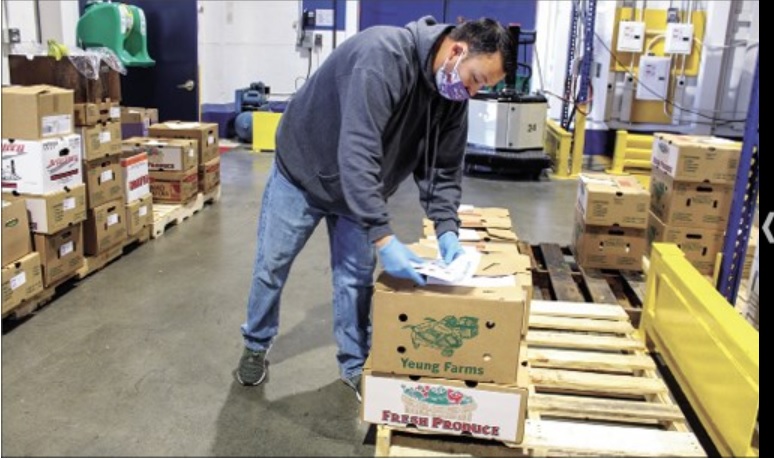 By Kevin Hecteman
California Farm Bureau,
Photo/Kevin Hecteman: Dan Garcia, warehouse manager at Produce Express in Sacramento, looks over boxes of fresh fruits and vegetables awaiting pickup at the wholesaler's drive-through. Produce Express began selling boxes directly to the public at the onset of the first round of pandemic-related shutdown orders in March. As another round of shutdowns begins, farmers face uncertainty in making fall and winter planting decisions.
Making planting decisions for fall and winter vegetables is hard enough without a pandemic and ever-changing shutdown orders dimming the crystal ball.
The state ordered indoor restaurant dining to cease again July 13 as coronavirus cases spiked around the state, prompting even more uncertainty for vegetable farmers in a growing season already rife with it.
"Up until a couple of weeks ago, we felt reasonably confident putting together a planting schedule that was fairly similar to previous years," said Steve Brazeel of SunTerra Produce, based in Orange County. "As we get closer, these decisions become more critical, as it looks like it will come down to the last minute."
He'll have to decide within the next couple of weeks what winter-vegetable crops to plant in the Imperial Valley. Ordinarily, those would include iceberg lettuce, romaine lettuce, green and red leaf lettuce, broccoli and cauliflower.
Brazeel said planting decision making normally starts with talking to customers about their expectations.
"What's going on now is, those initial conversations are just not clear, because of the situation of opening and closing and opening and closing," Brazeel said, noting he's likely looking at an across-the-board reduction of as-yet-undetermined scope.
The original shelter-in-place orders in March caused food-service orders to vanish seemingly overnight, forcing some farmers to plow under their crops. An economic study commissioned by the California Farm Bureau Federation and other organizations and conducted by ERA Economics found some Imperial Valley growers lost entire leafy-green crops worth millions.
Markets have been up lately, but they have begun to decline again, said Mark Shaw, vice president of operations at Markon in Salinas. Its main line of business is supplying fresh fruits and vegetables to the food-service sector.
"We just came out of a high market," during which iceberg lettuce sold for $18-19 per carton, and romaine for $25 or so, Shaw said. "Both of those markets are declining now—have been declining for the last two weeks."
The latest shutdown order restricts restaurants to outdoor dining, takeout and delivery.
"It is going to take away the food-service demand for lettuce, romaine, broccoli and cauliflower," Shaw said, adding that the shutdown will keep markets low, "lower than basic growing costs."
The latest shutdown order doesn't have an expiration date, leading Shaw to predict depressed markets could last into August, as restaurants don't know when they'll be able to resume indoor dining.
Brazeel said he's ready for a wild ride.
"I fully expect roller-coaster markets this winter on the wet vegetables, because of the reduced plantings, and then pockets of resurgence of volume—of restaurants reopening or schools utilizing it," Brazeel said. "I think that there's just as good of an opportunity of the market being really high as opposed to disastrous like it has been, just because decreased supply obviously will result in higher pricing."
Shaw said some farmers reduced plantings of leafy greens as the first round of shelter-in-place orders took hold.
"It's typically a 90-day crop from seed to emergence to harvest," he said, noting that people started backing off on acreage in March and early April. "That reduction started hitting about June 15."
With food service reduced and unemployment soaring, the U.S. Department of Agriculture launched the Farmers to Families Food Box program, which seeks to purchase farm products without any other market and route them to families in need via food banks. The program has invoiced 41.5 million boxes as of July 17, according to the USDA.
"That had an effect as well, driving those markets up because you had all these produce boxes that were being produced," Shaw said. "They were taking up available supply out of the Salinas Valley for lettuce and romaine and broccoli and cauliflower."
One Sacramento wholesaler, Produce Express, began putting together consumer boxes and selling them directly to the public shortly after the first shutdown order came. The boxes feature fruits and vegetables that otherwise had lost their markets.
"We've never done them before," said Jim Boyce, who runs the business his parents started in 1984. "We've been asked to do them quite often in the past."
The boxes, he said, were created out of several needs—moving produce that otherwise had lost its market, keeping his employees busy, and filling a void in the community at a time when going to the store was dicey because of long lines and product shortages.
Demand for boxes has declined from about 400 a day at the zenith to about 25 a day, Boyce said, adding that he doesn't foresee strong demand for them again until late fall or early winter.
"The reason I say that is because grocery stores, retail stores struggle with getting enough product on the shelves the farther product comes away from home," he said. "Right now, it's pretty easy to get broccoli overnight."
Boyce said he figures that as people return to work, they'll be less inclined to cook at home and will seek out takeout or delivery.
"What we're seeing is the people that are buying the boxes, and continue to buy the boxes, are more of what we call a 'foodie,'" he said. "They want a good-quality meal that they're going to fix with all-natural ingredients and do it their way."
He said he doesn't think the latest shutdown will affect box demand much, because restaurants can take advantage of summer weather to expand outdoor seating. He's concerned, however, about the farmers who supply his business.
"I can tell you the ones that I've talked to, they're as frustrated as I am," Boyce said. "We don't know how to plan for the future, let alone for tomorrow."
Brazeel said he's trying to maintain a sunny outlook for the winter crop.
"We have optimism and excitement going into the winter, just like we do every winter," he said. "There's always optimism when you plant, and then realism when the harvest time comes."
(Kevin Hecteman is an assistant editor of Ag Alert. He may be contacted at [email protected].)
Permission for use is granted, however, credit must be made to the California Farm Bureau Federation when reprinting this item.