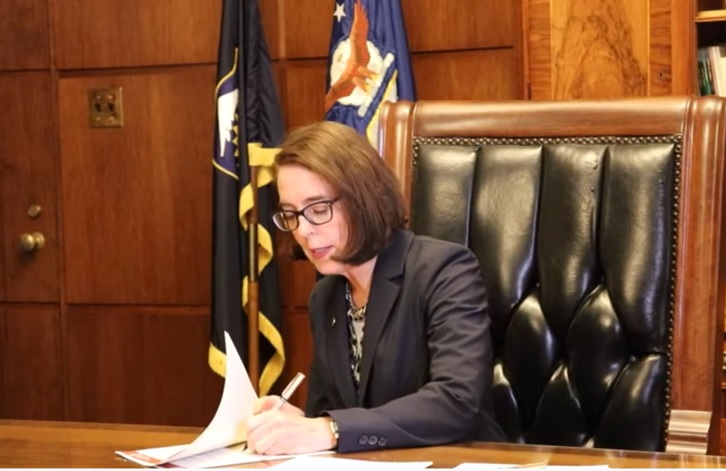 Oregon Farm Bureau Press Release,
OFB joins lawsuit to fight governor's Executive Order
On July 31, Oregon Farm Bureau, in partnership with Oregon Business and Industry, Oregon Truckers Association, Oregon Forest Industries Council, Oregon Manufacturers and Commerce, and individual business owners, including Otley Land & Cattle owned by Harney County Farm Bureau members OFB 3rd VP Shane and Crystal Otley, filed a lawsuit challenging Governor Brown's authority to enact Executive Order 20-04, which would establish a new carbon regulatory program for the state.
"The executive order is an attempt to enact sweeping changes to state policy without authorization from the legislature. We believe such action requires legislative approval and that the governor's order is unconstitutional," said Dave Dillon, OFB EVP.
Governor Brown issued the executive order in early March, soon after HB 2020, the controversial cap-and-trade bill, failed to pass the 2020 Short Oregon Legislative Session. Farm Bureau and many others opposed the bill in large part because it would've substantially driven up the cost of fuel — impacting farmers, ranchers, foresters, loggers, and rural Oregonians much more than their urban counterparts — without making any significant impact on the reduction of global carbon emissions.
The executive order mandates much of what was included in HB 2020 and directs state agencies to establish programs to achieve those goals.
"For many years OFB has been a leader in making sure carbon policies do not devastate farm and ranch families and Oregon's rural communities," said Dillon. "However, this lawsuit is about the lines between executive branch authority and legislative authority, and not about the merits of the carbon policy issued by the governor."
OFB joined the lawsuit with a broad coalition of employers and business groups because we believe Governor Brown overstepped her constitutional authority by essentially rewriting statute. It's the coalition's position that, based on the separation tenets of the Oregon Constitution — the executive (governor), judicial, and legislative branches of government — no governor can unilaterally change policy set the state legislature, regardless of the subject matter.
In essence, the lawsuit is about good government and following the rules. Bypassing the legislative process and enacting regulations that rewrite state statute sets a dangerous precedent and should be of great concern to all Oregonians. Overstepping these executive powers today is certain to lead to further abuse down the road and erodes the trust of people across the state.
"The constitutional question here has implications for all government policies in the future," said Dillon. "We believe the three branches of government must maintain their own constitutional authority and that no one branch should take for itself powers the constitution reserves for the other branches."