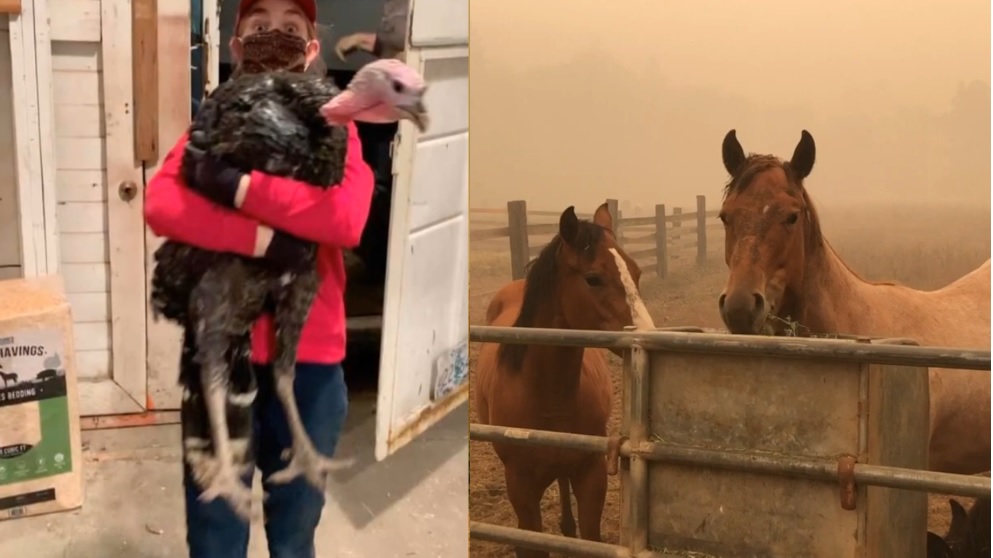 By Oregon Family Farm Association,
As residents scramble to pack belongings and flee their homes, volunteers across Oregon have evacuated hundreds of horses and other livestock endangered by wildfires.
Megan Spalding said the Canyon Riders Rodeo Drill Team in Salem said has transported horses from regions under Level 2 "Be Set" evacuation notices as they weren't allowed in under Level 3 evacuation orders. The team has evacuated 40 horses from Lyons and moved another 50 horses to Yamhill. Spalding said nine horses taken into the team's barn east of Salem might need to be evacuated as flames drew closer.
Leanna Chapin, who lives near Keizer, hauled a stranger's horses to Oregon State Fairgrounds for safety and rushed to do the same for animals near Silverton, but though flames had jumped
the road before she could arrive, the 45 horses at the Canyonview Ministries camp were evacuated safely.
A Clackamas County Fairgrounds spokeswoman said many rescued animals are being housed at the fairgrounds.
Kellie Puckett, a manager with the Oregon Horse Center in Eugene, helped evacuated families unload their horses into stalls. The center has housed more than 100 horses evacuated from fires throughout the state, according to The Capital Press in Salem.
Annie Fike, boarding manager at the Oregon Horse Center, posted on Facebook that the center is offering as much as possible free, including RV spots with hookups, showers, feed, hay, and buckets. But like other small businesses, OHC has been hit hard by COVID-19, and she said $10 a stall would help offset some of "massive electricity bill" and other expenses. The center didn't require upfront payment or turn anyone away, but she asked for whatever help people could provide.
Feed stores such as Coastal Farm & Ranch and Wilco have donated supplies, including hay, electrolytes and water buckets. The Capital Press said strangers have opened their barns to house evacuated goats, ponies, pigs, llamas, mules and even a bull.
The Eugene Livestock Auction in Junction City, Lane County Animal Services, TimberUnity and a livestock group called Cowboy 911 have transported hundreds of animals, and Akins Trailer Sales in Harrisburg, Ore., loaned its fleet of trailers free on an honor system to ranchers rescuing livestock.
Tommie Reevs with Silver Saddle Ranch and Stables in Roseburg, Ore., has driven roads in Sutherlin, Ore., with her horse trailer looking for people to help.
The cover photos and more stories can be seen at Evacuating Horses from Wildfire and OSU's Mobilizing to Save Livestock