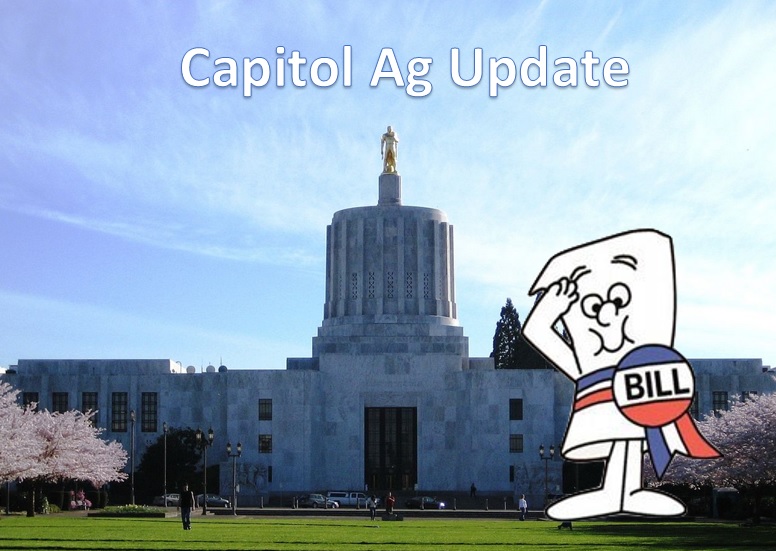 By Oregonians for Food and Shelter
Last week was hectic as House and Senate policy committees held hearings on a number of controversial bills. Bills are advancing quickly because policy committees are racing to meet two upcoming deadlines. By next Friday, March 19th, bills must be posted for a possible work session in order to receive further consideration by the legislative body in 2021. That deadline does not apply to bills in the House and Senate Rules Committees, Revenue Committees, or Joint Ways and Means Committee. By April 13th, bills must receive a vote and pass out of their original policy committees to remain alive for the remainder of session. For those of us in Salem, March 19th and April 13th are circled on our calendars as the days that the 2,500+ policy bills will hopefully be whittled down into something more manageable for this virtual session.
On Monday this week, the House Committee on Business and Labor held a public hearing on HB 2358, which would require all farms and associated businesses to pay overtime to employees after 40 hours of work. Representatives Shelly Boshart Davis and Bobby Levy, both farmers, testified in opposition to the bill, as did Senator Chuck Thomsen, a pear grower from the Hood River area. They were followed by a panel including Jenny Dresler for OFB, nursery owner Leigh Geschwill, and dairy farmer Bobbi Harrold Frost, who all shared concerns not only with the impact to local farms but also about reduced wages and lost jobs for workers. Local growers showed up in force to provide written and verbal testimony in opposition to the bill, although the committee ran out of time and was only able to hear from a handful of producers. Chairman Holvey committed to reopening the public hearing if the committee moves forward with the bill this session.
We know many of our members are concerned about the number of damaging policies this session. We will keep you updated on ag overtime, timber taxation, diesel equipment and fuel taxes, and other issues of concern this session.