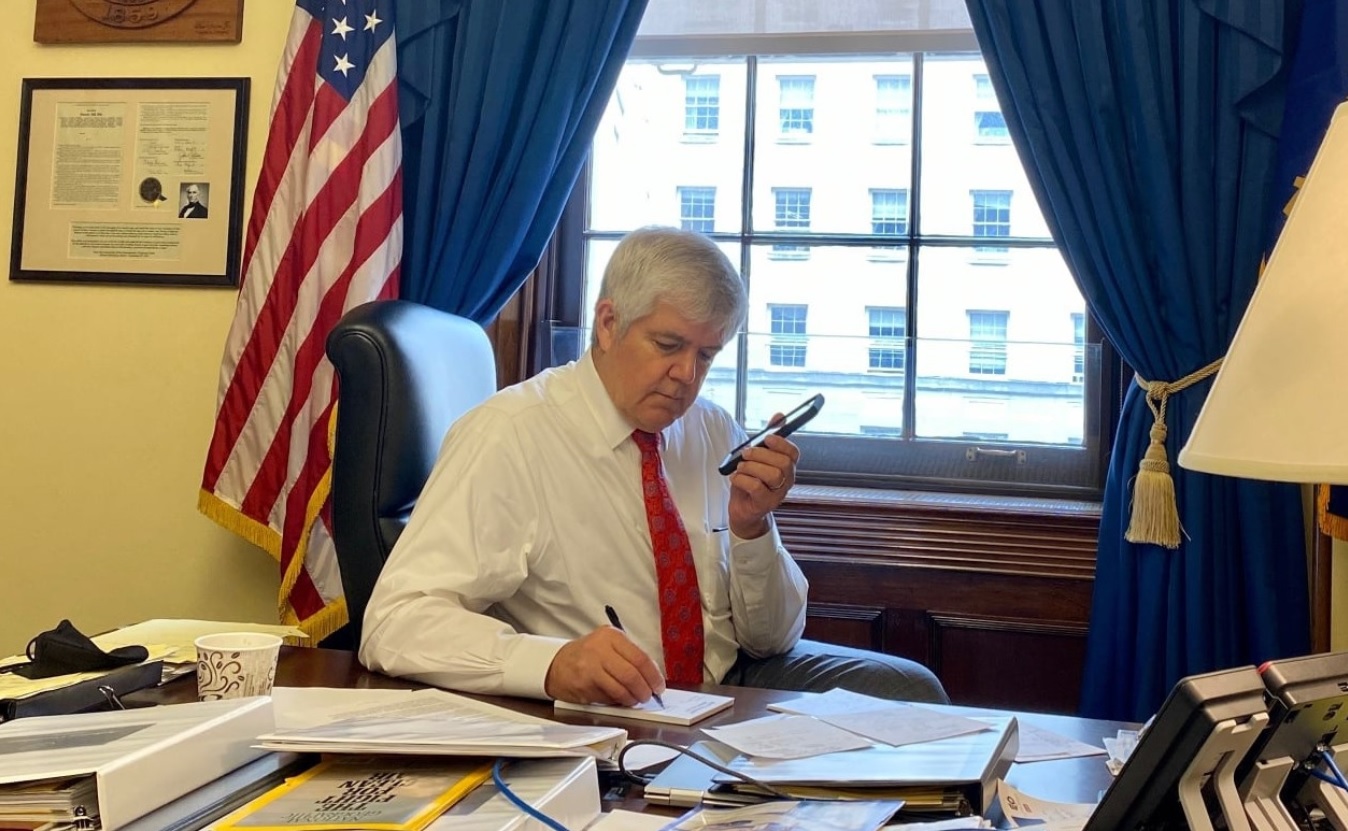 By Oregon Congressman Cliff Bentz,
Rep. Bentz Delivers First Floor Speech, Joins Rep. LaMalfa in $57 million Proposal to Address Klamath Water Crisis
Congressman Cliff Bentz (R-Ore.) delivered his first speech on the floor of the U.S. House of Representatives. He was joined by Congressman Doug LaMalfa (R-Calif.) in raising awareness of the catastrophic drought in the American West and supporting immediate relief for those affected by the ongoing crisis in the Klamath Basin through a $57 million aid and relief proposal.
Last week, the Bureau of Reclamation (BOR) updated their water projections and declared that no water will be delivered to farmers, towns, or wildlife in the Klamath Project. LaMalfa and Bentz have called for immediate action from the Biden Administration to bring additional aid to the area. Many farmers, having been informed earlier in the year they would receive some water, tilled ground, applied fertilizers, and planted crops. Without water, those crops will now die, causing huge economic impacts to the region.
Regarding his speech on the floor, Bentz said: "The catastrophic drought and historic zero water allocation by the Bureau of Reclamation have been absolutely crushing to irrigators, water users, and wildlife in the Klamath Basin. I have already worked – and will continue working – with Oregon's U.S. Senators to secure assistance for those in the Basin. However, our farmers simply cannot ride out this crisis or afford to rely on current measures to deal with this catastrophic drought. I appreciate the commitment by Congressman LaMalfa to lead with me in the House of Representatives on requesting enhanced, immediate relief for those in the Klamath. We are focused on elevating the needs of everyone in the community for further federal action."
LaMalfa and Bentz Disaster Aid Proposal:
– $40 million to assist farmers through USDA programs. These funds will help protect multigenerational family farms though this crisis.
– $2.5 million to aid wildlife refuges, including funding for a rescue duck hospital to limit botulism outbreaks, funds for necessary maintenance to stop the spread of diseases and improve habitat, funds for pumping groundwater.
– $2.5 million to assist families whose residential wells have gone dry due to lack of overall water availability in the Basin.
– $4 million in aid to water districts to repair canals. Without water flowing through canals, subsidence and wall collapse will destroy existing infrastructure.
– $3 million in aid for commercial fisherman affected by a loss of fishing opportunities on the lower Klamath.
– $5 million in food aid through USDA and Bureau of Indian Affairs to Tribes and Tribal Governments.
Farmers will not be required to pay for BOR operations in the Basin for the 2021 irrigation season in which they will receive no water.