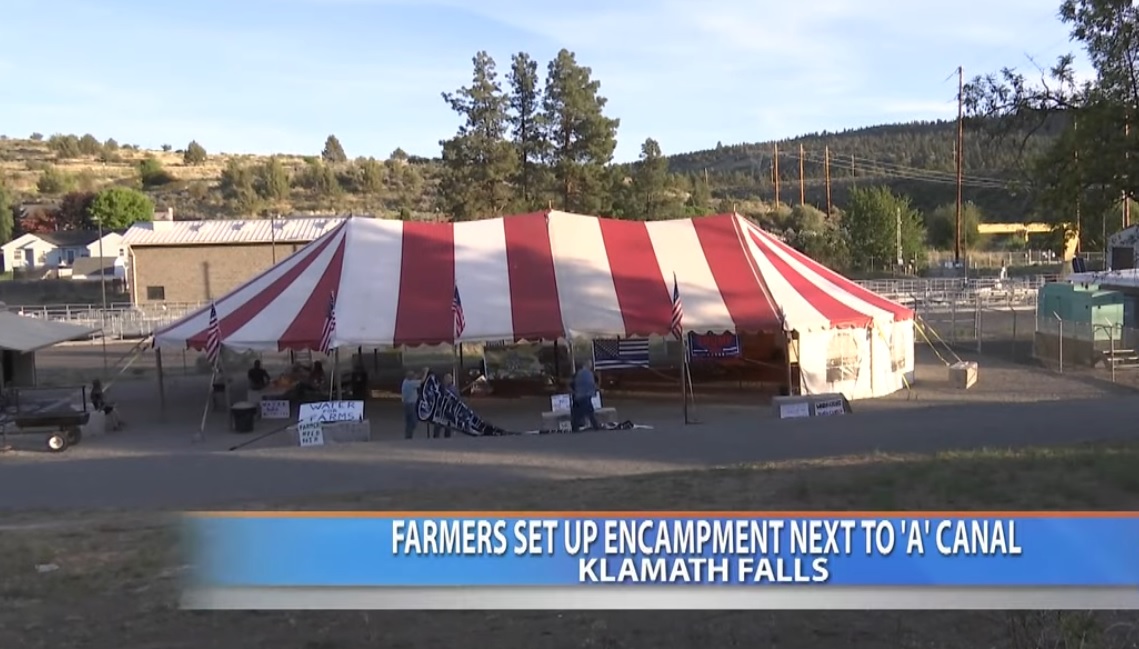 By Natural Resource News Note,
Several Klamath Basin farmers facing severe drought are threatening to breach the headgates of a federal irrigation project as they did during a dry period two decades ago.
But even if Grant Knoll and Dan Nielsen breached the headgates, water wouldn't irrigate their farmland because the U.S. Bureau of Reclamation installed five steel bulkheads, locked together, to prevent water from flowing into the main irrigation channel known as A Canal, according to the Capital Press.
Knoll and Nielsen met in 2001 when farmers forcibly breached the federal irrigation project to turn on water in A Canal. In April of this year, the pair paid $30,000 for land next to the headgates, where they set up a red-and-white canvas tent and invited speakers to rally support for their cause—essentially, the right of property owners to use water in Upper Klamath Lake to irrigate their land. They set it up as what they call a water crisis info center.
The potential powder keg stems from federal officials' announcement in mid-May that no water would be released this summer into A Canal from Upper Klamath Lake because of extremely low water elevations—the lowest since 1933. Federal officials also are responsible for protecting fish habitats.
Knoll and Nielsen say they've had no luck battling the federal decision in the courts, so they may breach the headgates to gain attention from Washington, D.C., officials.
But U.S. Rep. Cliff Bentz, who met with Klamath Basin farmers and cattlemen, urged them to remain peaceful as he plans to seek millions in federal funding to help them weather this drought. Any acts of violence could jeopardize those efforts, he said.
The Klamath Irrigation District manages the release of water through the headgates, which are owned by the federal government, under a contract with the U.S. Bureau of Reclamation.
Klamath County Sheriff Chris Kaber, who knows both Knoll and Nielsen, said he's been working with all parties to maintain the peace.
KOBI-NEws has more with the news clip below.