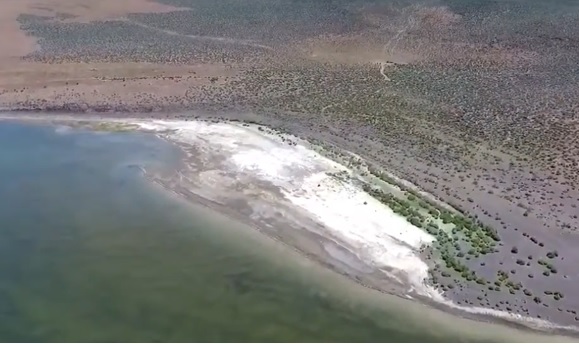 By Natural Resource News Note,
A 64-square-mile lake in the high desert of south-central Oregon dried up again last year—and it's possibly the fault of a dam erected upstream in 1994 using government subsidies.
During an extremely dry and hot year in 2014, Lake Abert, the state's only saltwater lake, dried up or the first time since the 1930s, when a Dust Bowl swept across the nation's southern plains from Nebraska to Texas.
Amy Simpson, a natural resources specialist with the Oregon Department of Environmental Quality, delved into the mystery of the lake's decline after reading an article in The Oregonian/Oregon Live. But in 2015, after discovering that the River's End Reservoir upstream prevented billions of gallons water from reaching Lake Abert, which proved devastating during a dry year, her supervisor, Steve Mrazik, shut down her research. He stated only that it was a "managerial decision" reached after a meeting of officials from five state agencies, including the Oregon Department of Fish and Wildlife, which help erect the reservoir, according to The Oregonian/Oregon Live.
Simpson, who left the DEQ in 2018, had proposed asking another state agency to release water and save the lake, which when healthy supports brine shrimp and alkali flies that feed thousands of migratory birds.
Agency officials determined "at the time that there was no significant action we could take," according to Harry Esteve, a DEQ spokesperson.