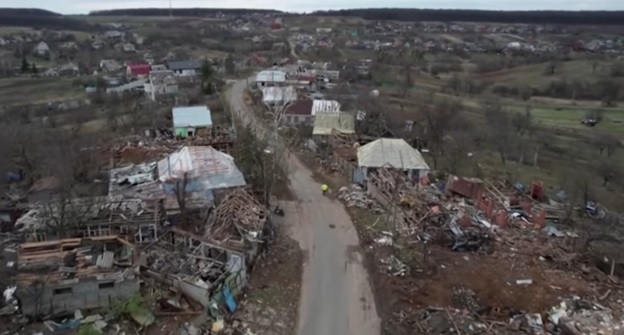 Some state crops may feel squeeze from Ukraine war
Issue Date: April 27, 2022
By Ching Lee
California Farm Bureau,
As Russia's invasion of Ukraine drives up prices of grains, sunflower oil and other commodities, several California crops may begin to feel ripple effects from the war, underscoring their link to global markets.
Todd Sanders, executive director of the California Apple Commission, said he expects more market competition for California and other U.S. apple producers this year.
That's because Poland, which historically shipped a significant amount of its crop to Russia, will be looking for alternative markets due to new sanctions against Russia. He said he thinks more Polish apples will show up in markets that currently buy California apples, putting more pressure on those markets.
"Now our apples are going to have to find other homes," Sanders said. "We'll be displacing somebody else or vice versa. It's just this huge snowball effect."
Poland remains the largest apple producer in the European Union and the world's No. 3 producer, after China and the United States. Other significant players include Turkey and India, according to the Food and Agriculture Organization of the United Nations.
Though Polish apples do not currently have market access to the U.S., because a formal pest-risk assessment has never been conducted, Poland has been included in the EU's request for expanded market access to the U.S., according to the U.S. Apple Association.
"Something that I'm hearing is that (Poland is) going to begin pursuing market access to the United States fairly aggressively," said Elizabeth Carranza, the apple commission's director of trade and technical affairs. "That might be something that we could see coming into effect here in the next couple of years."
She said there could also be more market pressure from other EU countries such as France, another major apple producer that may need to look for additional markets.
More immediately, California producers of wild rice have already lost a key export market: Russia. Carranza, who also oversees trade for the California Wild Rice Advisory Board, said a recent cargo ship headed to Russia with California wild rice was rejected at the port and had to return.
It is technically still legal to ship wild rice to Russia because the commodity is not included in the U.S. embargo list, she said. But the problem is logistics, as exporters are having trouble finding ocean carriers willing to go there. Major shipping lines have said they have suspended service to and from Russia.
"At this point, we pretty much lost that market for our wild rice," Carranza said.
Up until the war started, the advisory board had been "actively conducting promotions" of California wild rice in Russia with a "pretty full-blown and robust" program, she said. The advisory board had hired an in-country representative, built a website and promoted the product on social media in Russian. Now, with U.S. sanctions and banks not allowing wire transfers to Russia, paying trade reps for their services has been a problem, she said.
Most California wild rice is marketed domestically. With the loss of Russia, the advisory board has shifted its focus and trade-promotion funds to other markets, Carranza said.
For now, shippers may need to send more volume to the United Kingdom, which remains the top export destination for California wild rice. They used to ship more product to Turkey, Carranza said, but tariffs have made that market less attractive. Canada may be another outlet, and later China, to which the board is working to gain market access.
Even with the loss of Russia, Carranza said she does not think growers of wild rice will be deterred from planting the crop, as "there are enough opportunities in other parts of the world that they can pursue."
Besides California, Minnesota is the only other state that grows wild rice. In 2020, California produced some 7.2 million pounds of the specialty grain, while Minnesota produced 7.92 million pounds.
With about 10,000 acres in the state, wild rice remains a niche crop, especially compared to the more than 550,000 acres of traditional rice California typically grows. Due to water shortages, state rice plantings are expected to drop to 348,000 acres this year—the lowest since 1983, according to the U.S. Department of Agriculture.
Shasta County farmer Jim Rickert, who has been growing wild rice for 40 years, said water availability and rising input costs, especially for fertilizer, were key factors influencing his planting decisions. He seeded his crop in the fall, planting his usual 400 acres, though he has grown as many as 600 to 700 acres.
With the drought, his concern now, he said, is whether the state will allow him to use his water rights to finish the crop. "We're in unprecedented times," Rickert said. "I'm growing this crop on faith. The rules are changing as we speak."
With the price of Calrose medium-grain rice looking more favorable than wild rice—and with high demand for water to keep orchards alive—Rickert said he expects little to no wild rice grown in the Sacramento Valley this year.
In the past, when wild-rice acreage was up in the 15,000 to 20,000 range, plantings were split between the mountain regions of Shasta, Modoc and Lassen counties and the Sacramento Valley, with some acreage in Lake County. This year, mountain growers and those with senior water rights or well water are expected to plant most of the wild-rice acreage, he said. With the cost of fertilizer and fuel escalating, "that's not going to encourage a lot of people to expand production at all," he added.
For California olive oil producers, impacts from the Russia-Ukraine war—which has sparked a global shortage of sunflower oil, raising demand for other cooking oils—so far have been minor.
While attending the Natural Products Expo West in March, Susanna Evans, sales manager for ENZO Olive Oil Co. in Fresno County, said people stopped by her booth to ask about pricing—and about whether the company also produces sunflower oil. Because sunflower oil costs "much less" than California olive oil, she said, it isn't considered a viable substitute.
Jonathan Sciabica of Sciabica's California Olive Oil in Modesto said demand for the company's oil has remained steady, even though the company has had to raise its prices due to skyrocketing costs.
Sean McCauley, who sells 80% to 85% of his olive oil via his retail store in Contra Costa County, said his wholesale business and sales to food service have remained "pretty static." But retail sales have seen a "double-digit spike."
He attributed the growth to shoppers becoming more savvy about olive oil and wanting to support local farmers.
(Ching Lee is an assistant editor of Ag Alert. She may be contacted at [email protected].)
Permission for use is granted, however, credit must be made to the California Farm Bureau Federation when reprinting this item.